World News
GERMANY |
Berlin memorial remembers Nazi euthanasia victims
Tuesday, 2 September 2014, 19:11 | Source: Deutsche Welle |
The federal government and the city of Berlin unveiled on Tuesday a monument for the victims of what the Nazis called "euthanasia" at a ceremony in the central Tiergarten park.
The open air installation, which comprises a 24-meter (80-foot) glass panel, is meant as a symbol to inform people about the scope of the euthanasia murders and their "repercussions that reach to the present day."
Federal culture secretary Monika Grütters said the monument reminded of the Nazis' "inconceivably inhumane distinction between 'life worth living' and 'life not worth living'," adding that it also served as a warning not to view life in such utilitarian terms.
Victims' relatives and other political figures gathered in Tiergarten for the ceremony, at the site of a now-demolished villa at Tiergartenstrasse 4. More than 60 Nazi bureaucrats and doctors worked in secret there under the "T4" program to organize the mass murder of sanatorium and psychiatric hospital patients.
High time
The monument is made of blue glass and contains information panels detailing the Nazis' campaign to exterminate the sick, the physically and mentally handicapped as well as people branded social "misfits."
In 1940 and 1941, around 70,000 people were killed as part of the Nazis' official euthanasia program. It was cancelled in August 1941, following public protests, but the killings continued under wraps. Various methods of execution were employed, including gas, forced starvation and poison.
"In contrast to the etymology of the word euthanasia [Greek: "easy death," eds.], the victims died a horrible death," Adolf Bauer, chairman of Germany's council for disabled persons, told DW.
"We welcome this memorial greatly, as it will serve as a means never to forget the Nazi crimes committed against disabled people," he added.
A total of 300,000 people deemed not worthy of life by the Nazis are believed to have been murdered. Neither West nor East Germany ever compensated the victims' families or the survivors, and critics had been long calling for official recognition of the injustices.
---
FRANCE |
Two teenage girls arrested over French synagogue suicide bomb plot
Monday, 1 September 2014, 17:15 | Source: Newsweek.com |

The gallery for women at the Great Synagogue of Lyon.
FLLL Two teenage girls have been arrested on suspicion of conspiring to blow up a synagogue in Lyon, French news websites have reported.
According to JSS News and Europe 1, a source from the French security agency the Central Directorate of Homeland Intelligence revealed that two Muslim girls, aged 15 and 17, were arrested in the Tarbes and Venissieux neighbourhoods a week ago, after authorities uncovered a plan to carry out a suicide bombing inside the Great Synagogue of Lyon. They were indicted on August 22nd for conspiracy to commit terrorism.
An unnamed security source also revealed that the two teenagers had never met, but communicated only via social media. "These girls were part of a network of young Islamists who were being monitored by security services," said the unnamed security source. Security services are becoming increasingly concerned with online radicalisation, particularly following the proliferation of videos created by jihadist groups such as Islamic State.
In a statement released on an online forum, the National Bureau of Vigilance Against Antisemitism (BNVCA), one of France's leading anti-semitism watchdogs, remarked that synagogues have become increasingly popular targets for Islamists and terrorists. The excessive measures taken to secure Jewish places of worship have turned them into "semi-fortresses", they said.
BNVCA attribute the recent spike in anti-Semitic crimes in France to the influence of unnamed political parties and sections of the media, which "pillory the Jewish state fighting against the Islamic state in Gaza". They also called upon the French Interior Minister to take all possible security measures to foil further attacks, particularly during important Jewish festivals like Yom Kippur, which begins in early October. "Jewish citizens are increasingly pessimistic about their future in France," the statement added.
---
GERMANY |
German anti-euro party enters state parliament in Saxony elections
Sunday, 31 August 2014, 19:33 | Source: Deutsche Welle |
Germany's anti-euro party has won its first state parliament seats following elections in Saxony. However, the ruling CDU conservatives will now need to find a new coalition partner.
Preliminary results show that as predicted, Chancellor Angela Merkel's incumbent conservative Christian Democrats (CDU) won Saturday's state election in Saxony, receiving 39 percent of the votes and up to 58 of the 120-seat parliament.
This means Premier Stanislaw Tillich will continue to govern, but will need to seek out a new coalition partner, with the liberal FDP party receiving only 3.7 percent of the votes - failing to clear the 5 percent hurdle required for parliamentary representation.
The eurosceptic Alternative for Germany party (AfD)won 10 percent of the vote, giving it either 13 or 14 seats. The AfD, with lead candidate Frauke Petry (pictured top), has capitalized on voter concerns about asylum seekers in its campaign. The party only narrowly failed to enter the national parliament and the state assembly in Hesse last year. It did, however, manage to garner seven seats in the European Parliament at elections in May.
The right-wing, populist party drew voters away from the extreme-right National Democratic Party (NPD), which scraped in at 5 percent of the vote and seven seats, for what will be its third term in Saxony's parliament.
The second strongest force is again the Left party, with 18.5 per cent, followed by the Social Democrat party (SPD), on 12.6 percent.
Popular Premier
Since 2009, the most populous state in Germany's east has been governed by a coalition of the CDU and FDP under Tillich. The 55-year-old Sorbian, an eastern European ethnic minority group, is considered to be down to earth and very popular.
The CDU won by a large majority in 2009, with over 40 percent of the vote. The FDP was then at ten percent. It's suspected the CDU will likely form an alliance with the SPD this time around.
From 1949 until 1990, Saxony was part of the communist German Democratic Republic (GDR).
Low turnout
Polling day saw 48 percent of the over three million eligible voters cast their ballots, braving rain and cool temperatures. It was also the last day of summer holidays, perhaps a reason for the drop since the last election in 2009 - which saw 52.2 percent turnout.
Saxony has shone in recent years on a number of key indicators. It has become economically stable, and next to Bavaria has the lowest debt of any German state, while its students perform well in educational testing.
---
GERMANY |
German Eurosceptic party AfD wins Saxony state seats
Sunday, 31 August 2014, 19:22 | Source:BBC |
The AfD, which says it is anti-euro (the currency), rather than anti-Europe, won around 9.6% of the vote.
Eurosceptic parties made large gains in the European elections in May.
The projected results from Saxony, a state in eastern Germany, indicate a much more successful showing at the ballot box than had been predicted.
The BBC's Damien McGuinness in Berlin says this is the first time that an anti-euro party has won seats in a German state parliament - which is big news in a country where support for the European Union is traditionally strong.
The AfD appeals to some conservative voters who think that Angela Merkel has moved too far to the centre, he adds.
The new party, which is one year old, entered the European parliament in May's elections, calling for the breakup of the euro and campaigning against bailouts for southern European countries.
However the party is seen by some as being controversial, accused of catering to nationalist sentiment and attracting right-wing extremists, our correspondent adds.
Angela Merkel, whose party sits on the centre-right, has ruled out any future coalition with AfD.
---
SWEDEN |
Clashes at Stockholm protest against neo-nazis
Saturday, 30 August 2014, 21:26 | Source: AP |
Swedish riot police briefly clashed with counterdemonstrators at a neo-Nazi rally in Stockholm on Saturday, two weeks before a parliamentary election.
Police said four police officers and three civilians were slightly injured in the violence that erupted on the sidelines of a march by about 150 members of the far-right Party of the Swedes.
Thousands of people gathered in downtown Stockholm to protest peacefully against the march, but a few dozen masked activists attacked police with firecrackers, bottles, eggs and panels from a security fence.
"We have had violent riots with people throwing objects at police," police spokesman Lars Bystrom said.
He said one person was arrested for "preparation for aggravated assault," while another was arrested for trespassing after climbing onto the roof of the Royal Opera, outside which the neo-Nazis started and ended their march.
Fifteen people were apprehended for violating a ban on wearing masks at political demonstrations.
Police had sealed off large parts of central Stockholm because of the march by the Party of the Swedes, which wants to stop immigration and reserve Swedish citizenship for people with "Western genetic and cultural heritage."
Formerly known as the National Socialist Front, the party won a local council seat in a small town in central Sweden in 2010. Polls before the Sept. 14 vote show it only has a fraction of the support needed to enter the national Parliament.
A week ago, three people were injured when mounted riot police charged demonstrators in the southern city of Malmo, in connection with another protest against the Party of the Swedes.
---
GREECE |
Neo-nazis attack Gay couple in Athens
Saturday, 30 August 2014, 12:23 | Source: Seattle Gay News |
A Gay couple was attacked in central Athens on August 23 by a neo-Nazi mob of 10 to 15 men.
According to the Greek newspaper Kathimerini, the attackers 'had shaved heads and were wearing black t-shirts,' the typical attire of the neo-Nazi Golden Dawn Party.
Kathimerini said the couple was attacked in the upscale Pangrati neighborhood, east of the city's main soccer stadium. Both men were injured, with one needing surgery on his ankle.
The August 23 incident is only the latest in a series of anti-Gay assaults. Last month another Gay couple was attacked by a group of police officers who observed them holding hands.
Greece is generally considered a safe destination for LGBT tourists, and the main cities have significant and increasingly visible LGBT communities, with annual Pride Parades in Athens and Thessaloniki.
Ultra right-wing groups are growing in numbers, however, as the country's economy languishes in a seemingly permanent recession. Unemployment is now around 30% overall, and over 60% for workers under 30.
Golden Dawn took almost 10% of the vote in May elections for the European Parliament, becoming Greece's third-largest party. They ran on a nationalist, anti-immigrant, anti-Gay platform.
Many police officers are said to be Golden Dawn supporters. Police have repeatedly been accused of assaulting immigrants, just as they are accused of beating boyfriends George Kounanis and Harry Vasilakis in July.
The Greek Orthodox Church is also anti-Gay, although less stridently so than their Russian Orthodox colleagues. In January, LGBT activists staged a kiss-in in Piraeus, the seaport of Athens, to protest anti-Gay statements by Bishop Seraphim.
The Archbishop of Athens has taken a more moderate approach, urging church officials to be willing to 'change with the times'.
---
SWEDEN |
Neo-Nazis gathered in Stockholm
Saturday, 30 August 2014, 12:17 | Source: Norway |
Swedish police have blocked off parts of central Stockholm, hoping to prevent collisions during an announced demonstration against the neo-Nazi party Svenskarnas meeting Saturday afternoon.
Party supporters will meet at Gustav Adolf's Square in the Swedish capital, and in Kungsträgården there will be a counter-demonstrations. Nearly 12,000 have announced via Facebook that they will attend in protest against the Nazis. Last weekend ended with violent clashes as anti-racists protesting against Svenskarnas street meeting in Malmö. Five people were seriously injured after being ridden down by police horses. - We must show our opposition to Svenskarnas hostile, racist politics, and against that the Nazis take over parts of our public spaces, says one of the organizers of Saturday's counter-demonstrations. Large police forces to be stationed in Stockholm's streets to prevent unrest and police warn that it may be difficult to find your way by car or on foot in the downtown area. Both around the venue and along the neo-Nazi march route towards Skeppsholmen via Strömgatan going to put up roadblocks to prevent clashes.
---
AUSTRALIA |
Golden Dawn visit dismays Australia's Greek community
Friday, 29 August 2014, 02:23 | Source: Guardian |
A planned visit to Australia by members of the European parliament representing Greece's neo-Nazi Golden Dawn party has been met with embarrassment and dismay by leading members of the country's Greek community.
Days after the extremist group announced that former army generals Eleftherios Synadinos and Georgios Epitideios would visit Sydney and Melbourne in October, Greek Australians vowed to stop the organisation spreading its message of hate.
"Greeks in Australia oppose Golden Dawn," Bill Papastergiadis, the president of the Greek Orthodox Community of Melbourne and Victoria, told Guardian Australia. "The visit by an anti-immigrant party is incompatible with the pluralist and multicultural society in which we live."
More than 300,000 people of Greek descent live in Melbourne.
The forthcoming trip is the most concrete sign yet of the neo-fascists' determination to extend their global reach. Emboldened by its unexpectedly good performance in recent local and European polls, the Holocaust-denying party, now the third-biggest political force in Athens, has stepped up efforts to tap the Greek diaspora for support.
Australia appears to have pride of place in that campaign. Ignatius Gavrilidis, Golden Dawn's newly appointed Australia representative, told the ABC support for the group was soaring, especially among younger Greek Australians, despite a judicial inquiry in Greece that has unmasked the movement as a criminal organisation. Most of its leadership is detained in pre-trial custody as a result.
The visit aimed to raise awareness and funds, Gavrilidis said. He acknowledged that some ultra-nationalist Golden Dawn MPs admired Hitler – with its leader, Nikolaos Michaloliakos, keeping a portrait of the Führer in his home – but they neither espoused nor endorsed Nazi ideology.
"Yes they have admired the leadership of Hitler, just like we also admire the leadership of many strong leaders across the world," Gavrilidis told the public broadcaster. "Vladimir Putin is a very strong leader. He's got integrity. Benjamin Netanyahu is a very strong leader."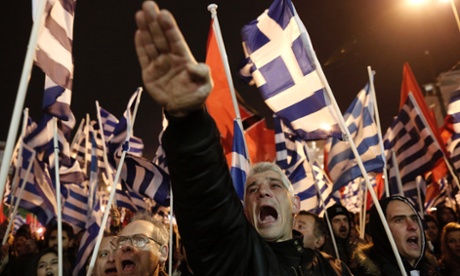 A
Golden Dawn party supporter raises his hand in a Nazi-style salute during a rally in Athens. Photograph: Yannis Kolesidis/AP
Supporters in Australia numbered in the "thousands" even if there were no more than 70 activists nationwide, Gavrilidis said.
But Greek community leaders denied the far-right group had any appeal. "Support for Golden Dawn is largely nonexistent," Papastergiadis said. "They have no profile whatsoever in Australia."
Victorian Liberal MP Nick Kotsiras, a former minister in the state government, echoed that sentiment, saying Golden Dawn had minimal support among Australia's Greek community.
"I am embarrassed by the existence of Golden Dawn. Golden Dawn does not represent me, it does not represent my family and does not represent the vast majority of Greeks living in Victoria," he said. "But they are also not representative of Greeks living in Greece. They are the antithesis of what the Hellenic spirit is all about."
The politician insisted that if the far-right MEPs were allowed into Australia it should only be after passing the character test automatically conducted on people trying to enter who are suspected of being associated with a criminal organisation.
In May,black-shirted Golden Dawn followers clashed with Greek Australians from the anti-fascist front during a protest in Brisbane that was also attended by supporters of the far-right Australia First party.
A Greek-Australian organiser with the Melbourne Anti-Fascist Initiative, Alex Kakafikas, said opponents of Golden Dawn were meeting to discuss their response to the MEPs' visit, including a blockade of any events they held.
"The ultimate goal is to stop them from having their meeting," he said.
Kakafikas said Golden Dawn maintained a "shadowy" presence in Melbourne and had only a few supporters.
"But one of the problems is that local Greek-Australian supporters are making connections with the far-right in Australia. Golden Dawn's Australian leader has spoken at an Australia First meeting," he said.
"It's not that Golden Dawn will be able to muster enough energy for political influence here. Our concern is its ability to contribute resources [to the Greek branch] and to send people over there to work with the organisation," he said. Australian members of the group had regularly travelled to Greece to take part in demonstrations and engage in "paramilitary training", he said.
In Athens, leftist activists who maintain contact with the Melbourne-based "No to Golden Dawn" campaign pledged to help stop the party broadening its support base.
"Their aim, clearly, is to set up Nazi cells of hate in the Greek diaspora that would strengthen far-right forces that already exist in Australia and the United States," said Petros Constantinou, a prominent campaigner with the Movement against Racism and the Fascist Threat (Keerfa).
"We will coordinate with our friends over there to stop them creating this black international of fascism. We will help and support their mobilisations in any way we can," he said in Keerfa's Athens office. "Diaspora Greeks, immigrants themselves, have been very vociferous in rejecting Golden Dawn's message of hate."
The party, whose insignia bears an uncanny resemblance to the swastika, has gone out of its way to soften its image as support for the organisation has risen on the back of Greece's economic and social collapse. Both Epitideios, an erstwhile Nato commander and Synadinos, the former head of Greece's special forces, are representative of Golden Dawn's determination to replace boots with suits in an effort to expand its appeal.
But although the makeover appears to have paid off – with the far-rightists more than doubling the party's showing in the Athens mayoral election in May – Golden Dawn MPs still face criminal charges for the brazen violence and hate speech they have directed against immigrants, gay people and Jews. Attacks against dark-skinned migrants and homosexuals by black-shirted assault squads have once again proliferated over the Athens summer.
Michaloliakos, who founded the party more than 30 years ago, and is accused of murder, extortion and assault, will stand trial with other MPs later this year.
---
HUNGARY |
Jobbik's mayor candidate proposes law to clarify role of state in Budapest
Friday, 29 August 2014, 02:18 | Source: politics.hu |
The radical nationalist Jobbik party's candidate for Budapest mayor has proposed that parliament should pass a law to "clearly define" the roles of the state, Budapest's city council and its districts, as well as municipal services and central financing.
In an interview with MTI, MP Gabor Staudt also said that municipal operations should be made cheaper, and public safety in the capital should be increased.
Concerning a planned consolidation of public utility providers, Staudt said that setting up a holding to run those companies was "not a bad idea", but warned that greater financial transparency was necessary. "The government now sees a wasteful capital which it is not ready to finance," he noted.
Jobbik would integrate the municipal and district-level public area inspectors into a consolidated Budapest Warden and reinforce the single body with volunteers. Staudt argued that resident-participation would increase the "good manager" attitude in the city.
As for homelessness, Staudt said that assistance should be given to those that are cooperative, but the law must be enforced against those that prefer living on as rough sleepers. The candidate also called for a viable social housing programme in the city.
---
GREECE |
Thessaloniki mayor Boutaris sworn in wearing yellow star amid Golden Dawn protests
Thursday, 28 August 2014, 18:50 | Source:ekathimerini.com |
Thessaloniki Mayor Yiannis Boutaris wore a yellow Star of David badge, like the ones worn by Jews rounded up in the northern city during the Second World War, on Thursday for his swearing-in ceremony.
Boutaris pinned the badge to his jacket amid protest by leftists against the presence of Golden Dawn MP Artemis Matthaiopoulos on the municipal council. Mathaiopoulos gained 7.7 percent of the vote when he stood for Thessaloniki mayor in May's local elections, helping Golden Dawn elect two councillors.
Protesters exchanged chants and insults with Golden Dawn supporters who sat in the opposite public gallery at the municipal council. Boutaris pleaded with both sides to calm down.
"The municipal council is not a coffee house or a soccer stadium," said Boutaris, who prevailed comfortably in May's elections, winning 58.1 percent of the vote in the second round to secure a second term.
His decision to wear the yellow badge carries significant symbolism as almost 90 percent of Thessaloniki's Jews were killed during the Second World War after being transported to Nazi German concentration camps, leaving only some 10,000 survivors.
---