World News
SWEDEN |
Sweden Democrat has close ties to far-right site
Thursday, 27 June 2013, 12:39 | Source: thelocal.se |
Sweden Democrat politician Kent Ekeroth is closely involved in the running of a notorious anti-immigrant website and exerts influence over editorial content, according to media revelations on Thursday.
Ekeroth, who retained his parliamentary seat despite being one of the protagonists in the so-called "iron-bar scandal" involving leading Sweden Democrats , has previously claimed that he only assists Avpixlat with fundraising.
But an email correspondence published by the Aftonbladet daily on Thursday shows that Ekeroth communicates with editors regarding the content and presentation of the website that typically publishes a strongly anti-immigrant bias.
"Come on now - make the site more interesting and alive. It looks dead at the moment," reads one of the email sent by Ekeroth to Avpixlat.
Ekeroth has also provided Axpixlat with links to YouTube clips which have appeared on the site shortly after, Aftonbladet revealed.
The Local reported last week that Ekeroth had been ordered to pay 160,921 kronor ($25,000) in taxes for money sent to his bank account as donations to Avpixlat and its predecessor Politiskt Inkorrekt.
While Ekeroth stated in correspondence with the Tax Agency that he had neither insight nor influence on how the funds are used, the money was classified as income, with tax authorities deeming the set-up to be a "passive business".
Avpixlat's main administrator Mats Dagerlind has repeatedly denied that Ekeroth has any central role in the management of the website.
The site's name literally translates as "unpixelated", but is also a Swedish colloquialism meaning to "reveal" or "unmask" and one of the most common recurring themes on the site is publish photos of suspected criminals of foreign origin.
The website furthermore contains material which echoes the Sweden Democrat party's negative line on immigration, multicultural society, and the mainstream Swedish media.
The Local's attempts to reach Kent Ekeroth and the Sweden Democrats for comment on Thursday were unsuccessful.

---
POLAND |
Far-Right Disrupt Bauman Lecture
Wednesday, 26 June 2013, 02:30 | Source: Beyond The Transition |
Up to 100 far-right activists - organised by the National Rebirth of Poland movement (NOP) and football hooligans from WKS "Śląsk" - disrupted a public lecture at Wrocław University by the renowned sociologist Zygmunt Bauman.
The demonstrators gathered at the back of the lecture hall and before Bauman could begin his speech they shouted obsenities at him and slogans such as "Nuremberg for Communists". The demonstrators were removed only after the police and then an anti-terrorist unit intervened.Bauman was then able to deliver his lecture to the packed audience.
The far-right are arguing that intellectuals such as Bauman support totalitarianism and should not be allowed to speak freely at public universities.
Bauman was forced out of Poland during the anti-Semitic purges in 1968, when a number of prominent intellectuals were expelled from the country, and has resided in England since 1971.
After the Nazis had invaded Poland in 1939, his family escaped to the Soviet Union. He served in the Soviet controlled Polish First Army and participated in battles at Kołobrzeg and Berlin. He worked for the Communist government after the war and remained a committed Marxist. However, he became critical of the Communist government, which eventually led to his expulsion from the country. Bauman had been invited by the Lassalle Centre for Social Thought and the Friedrich Ebert Stiftung Foundation in order to mark the 150 anniversary of the formation of the German Social Democratic Party (Ferdinand Lassalle who helped create this movement was from Wrocław). After the far-right demonstrators were removed, Bauman was able to deliver his speech. He reminded the audience how since the election of Gerhard Schröder, the German SPD has lost over 1/3 of its vote and at how European social democracy has capitulated to the programme of the right. For the far-right Bauman's political biography means that he should not be speaking at public universities in Poland. This is the latest in a series of attempts by the far-right to break up the lectures of left-wing speakers at universities and intimidate the participants at these meetings. It is essential that the far-right are not allowed to prevent such meetings from taking place. They wish to demonise the left and remove its voice from the public debate. The large turnout at Bauman's lecture and the fact that it was able to proceed after the demonstrators were removed was an important victory for all those that believe in free-speech and democracy.
---
FRANCE |
France shuts down two fringe far-right groups
Tuesday, 25 June 2013, 21:15 | Source: Reuters |
The French government has ordered the closure of two far-right fringe groups following the killing of a leftist student during a brawl in Paris this month, the groups said on Tuesday.
President Francois Hollande's Socialist government has promised to crack down on far-right groups after 19-year-old Clement Meric died in a clash between ultra-nationalist and far-left youths in a busy Paris street.
The two groups targeted by the ban are the far-right movement known as the "Third Way" and its militant wing, the Revolutionary Nationalist Youths. A group of suspects under investigation for Meric's death had ties to the Third Way.
"The shutdown will not keep nationalism from expressing itself in all possible forms," the founder of the Revolutionary Youths, Alexandre Gabriac, told Reuters in response to the move.
Meric's death followed months of street violence by far-right groups on the fringes of huge demonstrations against Hollande's move to legalize gay marriage.
RTL radio reported on Tuesday that footage from security cameras suggested that Meric had been about to lay into one of the far-right activists from behind when the youth suddenly turned around and delivered a fatal blow to Meric's face.
---
EUROPEAN UNION |
Far-right MEPs to remain powerless in next parliament
Tuesday, 25 June 2013, 16:50 | Source: euobserver.com |
euobserver.comhttp://euobserver.com/political/120620
Next year's EU elections are to usher in more far-right MEPs, but they are unlikely to make a mark on policy.
A report out on Tuesday (25 June) by Counterpoint, a UK-based think tank, says that the May 2014 elections to the European Parliament will "in all likelihood" result in a "number of populist radical right gains."
But in a note of comfort for centrist and left-wing EU politicians, the study suggests far-right MEPs will continue to be a loosely-knit force in the EU assembly.
The same problems that beset them in the current term - being too diverse to form a cohesive group and being "ostracised" by other MEPs - are set to stay in place.
At the moment, most of the "populist radical right" MEPs are either not attached to any group - such as those from Hungary's Jobbik or France's National Front - or form part of the 34-strong Europe of Freedom and Democracy (EDF) group.
They make up a fraction - less than 60 - of the 754 MEPs from the 27 member states.
The report finds that while they are keen on speaking - often taking the floor to espouse their national party's platform - they are virtually nowhere to be seen when it comes to "substantive" policy making.
This is in part due to the "fundamental conflict" of despising the EU and not wanting to be part of its "machinery," but at the same time being fond of the recognition and the exposure that a seat in the parliament brings.
It is also due to fact the larger groups in the parliament snap up the majority of committee chairs and take the lead on policy reports.
"When compared to the other political groups, its [the EDF's] MEPs participate less often, write fewer reports and opinions, and are less successful at pushing through amendments and winning votes," Counterpoint says.
The report notes the group has shown internal coherence when it comes to scrutinising the EU budget, but on other issues its members are poles apart.
"UKIP [the eurosceptic UK independence party] and the Danish People's Party sit on opposite sides of the economic left–right spectrum," it says.
"The perspective that really unites EFD members is euroscepticism," it adds.
Meanwhile, the real "troublemakers" in parliament are the far-right parties from the Netherlands (PVV), the UK (BNP), Belgium (Vlaams Belang) and Austria (FPO), who tend to be broadly "anti-consensus" across an array of policy areas, from immigration, to gender equality and minority rights.
Even though they tend to be lumped together under the label "populists," it does not mean they all want to be associated with one another - further weakening their capacity to influence decisions.
Some parties belonging to the EDF - which itself contains the openly anti-immigrant Lega Nord - have said they could not bear to be in a group with Hungarian nationalists Jobbik, whose MEPs are non-attached.
The far-left and the far-right
The report notes one peculiarity, which "may become more important" in the next parliament, however.
It is a similarity in voting patterns among the far left and the far right when it comes to economic policy issues.
Whereas the far left is likely to vote against them on anti-austerity grounds, the far right is likely to be against them because they say the policies encroach on sovereignty.
"The populist radical right's tendency to believe that EU laws violate national sovereignty aligns with particular disagreements on the right and on the left," says the report.
Overall, Counterpoint believes the radical far right "still may well have little influence over the policy-making process" in the next parliament.
But this could create the new problem of disaffected voters wondering "what it is they can do to have any bearing whatsoever on the workings of the European Parliament."
"The difficulty for the European Parliament with respect to the populist radical right is not a question of policy, but rather a question of what the EP can do to show that it is responsive to the electorate," the study notes.
Anand Menon, professor of European politics at King's College London, agrees that EU leaders will have to react carefully to the 2014 elections if the predicted increase in far-right MEPs comes to pass.
"So many governments could be tempted to argue that this is a protest vote, a second order election," he said.
"But once you've argued that, it becomes contradictory to say that the European Parliament is the voice of democratic legitimacy and that we need to give it more power," he told this website.
---
SWEDEN |
Far-right 'more active' in Sweden: report
Tuesday, 25 June 2013, 16:47 | Source: thelocal.se |
Far-right and anti-immigrant groups in Sweden have become increasingly active, according to a new report published by anti-racist foundation Expo on Tuesday.
Some 1,824 activities connected to the racial ideology movement were reported in 2012, an increase of 24 percent on 2011. The activities concern everything from dealing out flyers and badges to meetings and demonstrations.
The number of groups active within the movement has however decreased, from 25 in 2011 to 18 in 2012, Expo reported.
"The Party of the Swedes has increasingly come to dominate the racist movement and taken over a large part from the other groups and also recruited a large part of their activists," Anders Dalsbro told Sveriges Radio.
The big city areas and the counties of Stockholm, Västra Götaland and Skåne saw the most activity overall, while Värmland, Dalarna and Västmanland topped the per capita list.
---
HUNGARY |
Anti-Zionist group hits brick wall
Monday, 24 June 2013, 10:32 | Source: Budapest Times |
Two members of far-right party Jobbik, Enikõ Hegedûs and deputy chairman Elõd Novák, announced this week an initiative to establish an anti-Zionist group in Parliament.
Speaker László Köver nipped the plan in the bud on Tuesday, however, writing to the MPs that Parliament would not allow "anti-Zionist" groups or any other such "provocative" initiatives that would harm Hungary's interests.
The same day Parliament lifted the immunity from prosecution of former Jobbik lawmaker Balázs Lenhardt, paving the way for a hooliganism prosecution related to his burning of an Israeli flag outside the Foreign Ministry last December.
The previous month Lenhardt had quit the party after launching legal proceedings against Member of the European Parliament Csanád Szegedi, who was himself hounded out of Jobbik following revelations that his maternal grandmother was a Jewish Auschwitz survivor.
"So-called Holocaust victims"
Lenhardt's contribution to the previous day's debate on compulsory school trips to Auschwitz (see brief at left) had been to assert that Hungary, like all countries on the losing side of the Second World War, had already paid out "loads" of money to "so-called Holocaust victims".
Ruling Fidesz party lawmaker Antal Rogán reminded him that the victims of the Holocaust really were victims, while Socialist Pál Steiner called for Holocaust denial to be added to Lenhardt's charge sheet.
Prime Minister Viktor Orbán, meanwhile, partially acquiesced to a Jobbik proposal that lawmakers be asked to reveal details of any dual citizenship they might hold. The issue made headlines internationally last December when a Jobbik MP called for the drawing up of a list of Hungarian Jews on the grounds that they might pose a national security risk.
Jobbik quickly resumed its official line: it opposes Israeli policy, not Jewish people, and Israeli citizens in public office raise conflict-of-interest issues.
Orbán said the dual-citizenship question was a matter for Parliament, not the government, to decide. He advised Jobbik MP Ádám Mirkóczki to ask the leader of the ruling Fidesz party caucus for help. The prime minister said he would support the Jobbik position in any ensuing debate.
---
FRANCE |
Far-right beaten in by-election
Monday, 24 June 2013, 09:54 | Source: thelocal.fr |
The far-right National Front came second in a by-election for the seat vacated by disgraced former Budget Minister Jerome Cahuzac, in the south-western department of Villeneuve-sur-Lot.
The party's candidate, Etienne Bousquet-Cassagne, achieved 46 percent of the vote in Sunday's run-off against eventual winner, Jean-Louis Costes from the centre-right UMP party, after eliminating the Socialist candidate in last week's first round election.
Former Prime Minister Francois Fillon, one of the UMP's leaders, said the victory for his party's candidate would be welcomed by "all republicans".
But Fillon also acknowledged the recent advances made by the FN on the back of the Cahuzac scandal and France's economic problems were of concern for all mainstream parties.
"The elevated score of the Front National is a reflection of the despair felt by many French who have been let down by the false promises of the president of the republic," Fillon said. "It is also a warning for the opposition."
---
POLAND |
Warsaw unites against racism
Friday, 21 June 2013, 20:11 | Source: Hope not hate |
The 'NEVER AGAIN' Association, together with Projekt: Polska, has organized a civic action to show solidarity and paint over large racist graffiti that appeared by the entrances of the African restaurant La Mama and a nearby African shop. Both sites are located in the Muranow district, known as the area of the Warsaw Jewish Ghetto during the Nazi occupation, and they are near the Polonia Warsaw football ground.
The La Mama restaurant is a key meeting point for the African community in Warsaw and it has hosted anti-racism educational activities co-organized with the 'NEVER AGAIN' Association, such as the special multi-cultural event on the final of the African Cup of Nations in February 2013.
The graffiti at both sites included racist text and an image of a man on the gallows. The 'NEVER AGAIN' action was organized within hours after the racist graffiti was discovered on 19 June and it brought together several hundred participants mobilized through Facebook. It drew positive coverage in the media, too. The Mayor of Warsaw, Hanna Gronkiewicz-Waltz endorsed the initiative on her own Facebook page saying 'I am happy you have gathered to remove the racist inscriptions through collective action. Warsaw is an open city and there must be no place for any expression of racism! I have instructed the Warsaw City Police to pay particular attention to any such acts of discrimination.'
The incident took place against the background of a series of hate crimes that occurred in several Polish regions in the recent weeks. Anti-racism experts attribute the rise in hate crime to an increased street presence of the newly formed far-right Nationalist Movement which has drawn its strength from the racist football hooligan subculture across Poland.
The Polish government has asked 'NEVER AGAIN' to join its new task force for monitoring hate crimes.
---
HUNGARY |
Upheaval in Hungarian parliament as MPs protest land law vote
Friday, 21 June 2013, 17:44 | Source: politics.hu |
Hungarian MPs passed a controversial new land law amid raucous protests in Parliament and the resignation of a high-profile lawmaker from the governing party.
As MPs were preparing to vote on the bill, a number of Jobbik lawmakers occupied the speaker's chair, unfurling a banner denouncing the sale of Hungarian land to foreigners as treason.
The protesting MPs, led by Jobbik head Gábor Vona, were ordered by Deputy Speaker of Parliament János Latorcai to vacate the lectern, but they refused, leading to a delay in the session and the exclusion of the protesters from the vote.
As the votes were being counted, Jobbik lawmakers shouted slogans including "Traitors" and "No, no, never," the latter a traditional protest chant against the post-World War I Treaty of Trianon.
In the end the bill was approved 253-17, with many MPs abstaining, and charges by the opposition that the bill would be found technically invalid because no roll call had been held.

---
BULGARIA |
Bulgarian Nationalist Chief Exposed in 'Paid Support'
Friday, 21 June 2013, 17:40 | Source: novinite.com |
An investigative report of the Bulgarian National Television, BNT, aired Thursday evening, exposed the extremistnationalist party Ataka in paying people to protest in front of its headquarters.
Investigative journalist, Rosen Tsvetkov, worked undercover to prove those blockading for days now the main "Rakovska" street near the National Opera in downtown Sofia, are not true Ataka followers and supporters, but people paid BGN 30-50 to protect party leader, Volen Siderov, and provoke disturbances.
Following a tipoff, the journalist went Tuesday as a common fitness buff to a gym in the Sofia "Ovcha Kupel" district, where he ended among a group of young people, who had been offered money to take part in some protest rally.
The recruiter, named Dany, whose regular job is a nightclub bouncer, introduced himself as one of the organizers. He made a list of those wishing to participate and explained to them that he was getting bonuses for each person he managed to recruit.
Dany listed the duties of the "fake" demonstrators as sitting on the sidewalk without doing anything, keeping quiet and not talking to any reporters, particularly about being paid.
The footage then showed Dany leading his group through side streets to Ataka headquarters, which are located inside theOpera house, where over 100 young people with big muscles have already gathered.
"Don't go with them; there are our buddies, but do not join them. Our group will sit here with me. You can play cards if you wish; do whatever you want to do," the recruiter is heard saying.
The journalist showed "Rakovska" street divided by a car, saying Siderov used it as tribune to deliver his speeches on a loudspeaker.
The group of the "undercover" reporter stood on the side for over four hours under Dany's careful watch. Around 10 pm, someone informed them that the peaceful rally was coming in their direction and all were prompted to stand up.
They stood waiting for about an hour, but as no one arrived, they were told to go home and that the taxi cab fare will be paid by the organizers, while their wage will be handed to them on the next day.
Journalist Tsvetkov went to the gym on the next day, but was sent back as he was told the new requirement was for men to weight over 95 kg. He declined getting his pay of BGN 30.
Siderov and his "supporters" managed to stir disturbances for two consecutive evenings at the beginning of the week, but were forced to bring an end to the "drama" as police beefed up presence around Ataka headquarters and thedemonstrators decided to ignore the nationalists.
Thousands of Bulgarians are protesting for a week now with demands for the government to resign. The rallies were sparked by the outrageous decision to appoint controversial media mogul and lawmaker Delyan Peevski as Chair of theState Agency for National Security (DANS).
Meanwhile, bTV aired Friday morning an interview with a young man, who said he had worked for his entire life so far only as "paid" supporter, but had given up on the "job" recently and had decided to reveal his story before the camera. He stated many political parties were recruiting paid supporters all the time, but Ataka did it the most often, followed by theBulgarian Socialist Party, BSP, with wages ranging from BGN 5 and a sandwich to BGN 50.
A photo story of the Sanctor Legum blog shows pictures of Siderov's supporters, eating pizzas and leaving piles of trash.
One of the comments in the forum reads the following:
"One of these half-humans on the picture, devouring the pizza, is a former Pleven prison guard, who was fired last year for illegal drugs trading inside the jail. Volen must be really strapped to count on such scum."
Meanwhile, the Opera house staff and director complained in media and on Facebook that the nationalists are a huge problem for them and that they prevent them from doing their jobs with the loud noise, the piles of trash, the difficult access to the building, and the men urinating on the street.
---
GERMANY |
Credibility of NSU defendant called into question
Friday, 21 June 2013, 11:57 | Source: Deutsche Welle |
Defendant Carsten S. is accused of complicity in the NSU murders for allegedly supplying the gun with which nine of the 10 victims were killed. At the end of his testimony, S. apologized to the families of the victims.
For eight days, Carsten S. answered questions in the criminal proceedings against the National Socialist Underground (NSU) in Munich before his questioning ended on Thursday (20.06.2013). As the only one of five defendants willing to speak during the trial, all those involved were eager to hear his account. The others, including Beate Zschäpe, charged with 10 counts of murder, refused to testify or limited themselves to reading a prepared statement, as in the case of Holger G.
On the penultimate day of his hearing, the 33-year-old Carsten S. said he could not imagine what "incredible suffering" he had brought upon the families, and said he lacked the words to properly express his regret.
"An apology would not be enough," he said, just a sorry and then it would be over and done. "But it is far from over," he said. "I wanted to express to you my deepest sympathy."
S. allegedly acquired murder weapon
Lawyers for the plaintiffs had differing reactions to his words. Detlef Kolloge, who represents the family of Yunus Turgut, said he was "fairly convincing." But Yavuz Narin, the lawyer for the family of Theodoros Boulgarides, said the apology was just an "unconvincing defensive maneuver."
The credibility of S. is also being called into question, particularly with regard to his testimony in connection with the murders allegedly committed by the NSU. From 2000 to 2007, the members of the alleged far-right terrorist group are said to have been responsible for the murders of 10 people, among them nine people with foreign heritage.
According to S., he allegedly acquired a Ceka pistol on behalf of the co-accused Ralf Wohlleben, a former functionary of the far right-wing political party NPD. It was this weapon that he supposedly passed on to the alleged NSU terrorists, Uwe Böhnhardt and Uwe Mundlos, around the beginning of 2000.
Defense pushing for repeal of arrest warrant
Böhnhardt and Mundlos committed suicide in November 2011. According to the findings of criminal investigators, nine of the 10 victims were killed with a Ceska. But Wohlleben's attorneys, Nicole Schneider and Olaf Klemke, said testimony given by Carsten S. was contradictory. They said there is no evidence that the weapon he procured was the murder weapon, and that the arrest warrant against Wohlleben should be set aside and that he should be released immediately.
Further information came to light during the Carsten S.'s testimony. According to his statements, when he was delivering the weapon to Böhnhardt and Mundlos, the two boasted that they had left a "flashlight" in a Nuremburg shop. Carsten S. said he didn't know what they meant at the time. In the fall of 1999, an explosive device went off in a bar in Nuremburg, injuring an 18-year-old. The owner of the premises was a Turkish-born man. Based on this information, the Federal Prosecutor's office decided to also charge Zschäpe with suspicion of attempted murder.
Possible further offense
Federal prosecutor Herbert Diemer said he sees a possible further NSU connection with regard to a statement thought to be made by Wohlleben to S. According to the statement, Wohlleben spoke in a telephone call of a shooting in Nuremberg. The Federal Criminal Police Agency (BKA) will now determine whether there is anything to the story.
Whether these statements will have mitigating effect for Carsten S. is difficult to judge at this early stage of the proceedings. Prosecutor Jochen Weingarten seems to doubt S.'s credibility. The defendant claims to have left Thuringia's far-right scene in 2000 - coincidentally, Weingarten said, just around the time of the first alleged NSU murder in September 2000 when florist Enver Simsek was shot in Nuremberg.
Carsten S. has said his exit from the far-right scene was due to his homosexuality, which he said had caused him difficulties in those surroundings. What is clear is that at the beginning of 2000, Carsten S. left Thuringia to study social work in Dusseldorf. Until his arrest in late 2011, he had been working at an AIDS support organization.
---
HUNGARY |
Morvai escorted out of EP chamber
Friday, 21 June 2013, 11:30 | Source: politics.hu |
Yesterday morning – 20 June – the the Civil Liberties Committee of the European Parliament approved the "Tavares report", which claims there has been a marked decline in fundamental political rights in Hungary.
Predictably, the Hungarian government cried foul, with international "spokesblogger" Ferenc Kumin dismissing the entire process as a political attack by the European left, despite some on the left seeming just as upset that the report didn't go further.
During the proceedings, Jobbik MEP Krisztina Morvai made her feelings known by displaying a small paper banner saying "EU dictatorship?" – and was then escorted out of the chamber by security on the orders of the (Socialist) presiding over the session, leading to complaints from some non-right-wing MEPs.

---
RUSSIA |
Russian MP calls for gays to be whipped in public squares
Thursday, 20 June 2013, 23:33 | Source: Pink News |
A Russian MP has reportedly called for the right of marines to whip gay people in public.
Alexander Mikhailov is deputy of the Legislative Assembly of the Trans-Baikal Parliament and said he plans to put forward the violent proposal as a new regional law.
Speaking to the Chita news agency on Thursday, Mr Mikhailov linked gay people to paedophiles and suggested they should be whipped in public squares by "marines".He described homosexuality as a "common shame".
Referencing a doctor, who criticised the decision of several European countries to legalise marriage rights for same-sex couples, Mr Mikhailov praised the doctor and reportedly said: "We have to deal with such things".
He added that his province should adopt a law in which the marines have the right to flog the "asses" of gay people. "In Russia for many centuries the ass was used for educational purposes and not for love entertainment. So we should use it according to its intended purpose," the MP said.
Last week, the European Parliament adopted a resolution condemning Russian MPs for passing a draconian homophobic censorship law.
Earlier this month, President Vladimir Putin said he would back a ban on foreign same-sex couples from adopting Russian children, but denied it amounts to homophobic discrimination.
---
SERBIA |
Belgraders Demand Preservation of Nazi Camp
Thursday, 20 June 2013, 12:43 | Source: Balkan Insight |
A civic campaign group has urged the authorities to prevent the construction of a shopping mall at the site of a WWII concentration camp.
The informal campaign group has sent a letter to the state and city authorities, urging them not to allow the construction of the new shopping mall in the Autokomanda neighbourhood, at the site where a Nazi concentration camp called Topovske supe once stood. "The fact that the location is convenient for the construction of the shopping centre should not be used as a cover for drastically demeaning the Holocaust," said the letter.
"Serbia became a full member of the International Holocaust Remembrance Alliance and that membership obliges the country to support and affirm [the Alliance's] standards at all times," it said. On June 2, the campaign group organised an informal public history class at the site of the former Topovske supe camp intended to preserve the memories of people killed during the German occupation in World War II.
The Topovske supe camp or 'Jewish Camp Belgrade', as it was called in Nazi documents, was set up in summer 1941. About 6,000 Jews and 1,500 Roma from Belgrade and the Vojvodina region were imprisoned there. According to the testimonies of people who survived, prisoners were taken from the camp and executed at various locations around the Serbian capital on a daily basis.
The campaign group argued in the letter that scientists have not yet researched the history of the camp and that only one plaque, installed by the Jewish community a few years ago, marks the site. In March this year, Yossef Levy, the Israeli ambassador to Belgrade, said that he understood the commercial interest in the site, but that there should also be a "historical, moral, political and religious obligation towards the past".
However Delta Holding, the company that is building a mall, stated in March that all the preliminary designs for the mall include "a decent way to commemorate the victims of the Nazis and mark the spot where the camp was."
"Any future decision on a memorial will be made in consultation with representatives of the Jewish community with respect for the people who suffered most," the company said in a written statement.
---
ITALY |
Despite condemnation, Milan hosts neo-Nazi, skinhead bands
Thursday, 20 June 2013, 12:40 | Source: JTA |
Despite condemnation by Milan's mayor and other political figures, hundreds of far-right extremists from several countries converged on Milan for a concert by skinhead and neo-Nazi bands.
Police on Saturday night (15 June) patrolled the neighborhood, but reporters and photographers were barred from the venue in an outlying district of the city. Video and photos on the web site of La Repubblica newspaper showed youths with tattoos and shaven heads and wearing black T-shirts with skinhead and neo-Nazi slogans and logos gathered on the street.
The concert was organized by a group called Skinhouse Milano, and bands and participants are believed to have come from Germany, France and Spain and other countries, as well as Italy.
Milan's mayor Giuliano Pisapia and other political figures in Milan and elsewhere in the country had condemned the event. Earlier Saturday Pisapia called it "unacceptable" and said "neither now nor in the future can Milan accept initiatives that draw on the repertoire of racial and political intolerance."
Parliament member from Milan Emanuele Fiano, who is Jewish, and others had called for the concert to be banned, but police authorities said that the event, held indoors, had not represented a threat to public order.
In another development, police in Milan earlier Saturday jailed a right-wing extremist for having sent a threatening message to the president of the Jewish community in Rome. Mirko Viola had been sentenced in April to two years and eight months house arrest for his role in the neo-Nazi web forum Stormfront, whose Italian web site also was ordered closed down.
The conditions of Viola's house arrest barred him from using the internet. According to the Italian media, police found that Viola had not only sent emails but also had mailed a postcard to Rome Jewish community President Riccardo Pacifici with "threatening content."
---
EUROPE |
Rise in attacks on Muslims in Europe
Thursday, 20 June 2013, 12:38 | Source: EUobserver.com |
A report published on Tuesday (18 June) by the Vienna-based Fundamental Rights Agency (FRA) found that Finland, France, and Sweden registered an increase in attacks against Muslims between 2010 and 2011.
Only Austria registered a decline. Data is missing from every other member state either because they do no collect it or have not published it. Anti-Semitic attacks during the same period dropped in France and Sweden. The FRA report notes the trends do not reflect the prevalence of racist, xenophobic and related crimes in the member states because most incidences go unreported.
Other caveats include how member states define these crimes and the willingness of witnesses to report the incidents. Finland recorded 14 cases of anti‑Muslim crime in 2009, 15 in 2010 and 14 in 2011. In France, authorities attribute the increase to applying rules on how to record the incidents. The precise number of cases was not given.
The report points out that "direct comparisons between member states cannot and should not be made here, because any observed variations are a reflection of data collection practices at the national level." It notes member states with the highest officially recorded rates do no necessarily have the highest rates of such crimes.
UK-based NGO Tell Mama records anti-Islamic attacks. The NGO, partially funded by the UK government, has noted 632 anti-Muslim hate incidents since March 2012. Most are women and girls ranging between the ages of five and 89. The few reported incidents elsewhere make for sobering reading.
On Tuesday, a young pregnant Muslim woman in Paris miscarried after suffering a brutal attack by skinheads last week, reports the AFP. Two men attacked the 21-year old woman in the Paris suburb of Argenteuil. They ripped off her head scarf, cut her hair, and shouted anti-Islam slurs.
---
SWEDEN |
Sweden's far right beats mainstream parties in cyberspace
Thursday, 20 June 2013, 12:36 | Source: AFP |
Extreme-right websites in Sweden are far more popular than websites run by parties represented in parliament, said a report presented to the government on Tuesday.
The seven top far-right websites attract a total of 145,000 unique visitors a day, according to the report, which was prepared by the government-run Swedish Media Council. "I'm surprised to find out that (the sites) have seven times more visitors than the total of all parties in parliament," said Ulf Dahlquist, the council's research director, when interviewed by Swedish Radio.
Three sites have more visitors each than all parliamentary parties combined, including realisten.se, run by the Neo-Nazi Party of the Swedes. The report, which described websites advocating violence, did not give any figures for visits to the websites of political parties in parliament.
It noted that the extreme left did not enjoy a similar level of popularity, with the two top sites attracting a total of just 3,620 unique visitors a day. Islamist websites are even more marginalised with only about 500 unique visitors each day, according to the report.
When asked by Swedish Radio, European Affairs, Consumer Affairs and Democracy Minister Birgitta Ohlsson said the finding had to "be taken very seriously." "You can never completely immunise a society against anti-democratic and extremist groups that favour violent action. But it's possible to take a large number of initiatives," she said. Realisten.se denied advocating violence, arguing that the report ought to make the parties in parliament reflect on "their inability to set up popular websites."
---
FRANCE |
Six Chinese students in France attacked
Thursday, 20 June 2013, 10:00 | Source: AFP |
Six Chinese oenology (viniculture) students were attacked in the early hours of Saturday in France's wine-producing region of Bordeaux, the interior ministry said, describing the violence as an act of xenophobia.
The students, who had arrived in France only two months ago, were allegedly "violently attacked" by three local men who were visibly drunk and previously known to the police, a ministry statement said. Two of the alleged attackers have been detained and are now in police custody.
A female student was seriously hurt in the face by a glass bottle which was thrown at her. "She happens to be the daughter of a Chinese political figure," said Sud Ouest newspaper on its website. According to other sources, the political figure is no longer in office.
"I cannot confirm the name, but it is someone who has now retired, having been the mayor of a big city," said Georges Jousserand, who heads the school in Bordeaux where the six Chinese between the ages of 22 and 30 were studying.
The students were attacked at their home in Hostens, a small village of 1,300 inhabitants located about 50 kilometres south of Bordeaux in southwest France.
Police had apparently called on the three suspects that night over the din they were making. Following that incident, the alleged attackers went to the residence where the Chinese students were living, perhaps thinking that the students had complained to police about the noise, a source close to the case said.
"When the Chinese student opened the door, he was attacked. And while the other students were trying to push the assailants out, it was then that one of the attackers threw a bottle straight in the face of the female student," according to Jousserand. "Two of the attackers were particularly violent," he added.
Another source close to the affair said the three were very drunk. They knew exactly where the Chinese students lived and hurled "racist insults" at them, said the source. The mayor of Hostens, Michel Viallesoubranne said that the students behaved calmly, while Jousserand said they were "perfectly integrated in this small village".
Interior Minister Manuel Valls condemned "severely this xenophobic act, for which the culprits must answer to before justice". The students were meant to be studying in France for a year.
Concern has grown in China in recent months over the increasing number of cases of thefts and attacks against Chinese tourists. In March, a group of 23 Chinese tourists were robbed in a restaurant shortly after they landed at Paris airport.
French Tourism Minister Sylvia Pinel was forced to come out to say she would do everything to find the perpetrators. The latest attack came on the eve of one of the biggest wine shows in the world, Vinexpo, which is held in the region.
China, which is the French winemakers' third biggest market, has increased its participation at the show, with 18 exhibitors expected this year, up from two in 2011.
Chinese investors have begun buying up vineyards in Bordeaux, not always to the pleasure of locals. French winemakers have recently also sounded the alarm over an anti-dumping probe launched by Beijing into wine imports from the European Union, in an apparent retaliation act over Brussels' decision to slap tariffs on Chinese solar panel imports.
---
CANADA |
Police investigating hate crime at Toronto home
Thursday, 20 June 2013, 09:56 | Source: CTV News Toronto |
A Toronto residence is the focus of a hate crime investigation after a family discovered their garage had been defaced with hate symbols and threatening messages. Police were called Thursday morning to a residence belonging to an Orthodox Jewish family with several young children.
The woman, who has asked not to be identified, told CTV News Friday that her husband noticed a large swastika and hate message scrawled on their garage door when he went to take out the garbage. The family soon realized the perpetrators had also entered the unlocked garage, defacing their property even further with threatening messages and more swastikas -- one was drawn on a child's high chair. "We feel terribly violated," the woman said in an interview Friday.
"The first time it was on the window of a car that was right at the front of the driveway, now it was already making their way into my property." The woman said it's the second time in weeks their property has been targeted. The couple found a swastika drawn on the inside window of their car, which had been left unlocked overnight.
After seeing the vandalism, the family called police. Officers canvassed the neighbourhood and collected evidence on Friday. "We treat this very seriously and we want to catch these people and put them behind bars," said Sgt. Lawrence Sager.
Avi Benlolo, the president of the Friends of Simon Wiesenthal Centre for Holocaust Studies, also visited the home today to help the family. "You look at the graffiti and the threatening language that's been placed in a residential neighbourhood and you have to ask yourself: why would anyone do such a thing," Benlolo said. He said anti-Semitic acts have been on the rise lately, noting a recent firebombing incident in Montreal.
Though the family says they have been left shaken by the incidents, they are pleased police are taking the matter seriously. "We are obviously not immune being here in Toronto, but at the same time it should not and cannot be tolerated," the woman said.
---
USA |
New York men in court accused of 'X-ray terror plot'
Thursday, 20 June 2013, 09:14 | Source: BBC |
A judge ordered Glendon Scott Crawford (pictured) and Eric Feight should remained jailed until further hearings on Thursday
But a synagogue, a Jewish organisation and the Ku Klux Klan alerted police after Mr Crawford approached them.
The men are charged with conspiracy to provide support to terrorists.
They face up to 15 years in prison if convicted.
The authorities say they monitored the defendants, who are from New York state, to ensure they could not obtain a radiation source or harm members of the public.
It is alleged that in April 2012, Mr Crawford walked into a synagogue and "asked to speak with a person who might be willing to help him with a type of technology that could be used by Israel to defeat its enemies, specifically, by killing Israel's enemies while they slept".
An undercover investigator was assigned to record conversations with the two men. Mr Crawford, an industrial mechanic for General Electric, knew Mr Feight through his work as an external contractor for the utility.
FBI agent Geoffrey Kent said in the indictment: "Crawford has specifically identified Muslims and several other individuals/groups as targets."
Mr Crawford is said to have told an undercover investigator that "radiation poisoning is a beautiful thing".
According to the indictment, Mr Crawford said he harboured animosity to those he perceived as hostile to the interests of the United States, individuals he referred to as "medical waste".
Both of the accused also said they were committed to building the device and discussed technical specifications, according to the indictment.
Investigators allege Mr Feight designed, built and tested a remote control for the system. The damaging effects of the radiation would have affected their victims only days later, according to the alleged plan.
The two were arrested the same day as undercover investigators planned to offer access to a real but inoperable X-ray system.
"This case demonstrates how we must remain vigilant to detect and stop potential terrorists, who so often harbor hatred toward people they deem undesirable," prosecuting US Attorney Richard Hartunian said in a statement.
---
FRANCE |
Le Pen to face prosecution for comparing Muslims to Nazis
Wednesday, 19 June 2013, 23:47 | Source: telegraph.co.uk |

The full parliament is now expected to formally lift her protection from prosecution as an MEP after a vote on the recommendation on July 3, clearing the way for her to face race hate charges in a French court.
Sajjad Karim, a British Tory MEP on the parliament's legal affairs committee, voted in favour Ms Le Pen losing her parliamentary immunity.
"There is a red line between freedom of speech and inciting racial hatred," he said. "I, along with many other MEPs, today voted to drop Ms Le Pen's immunity and I am confident that the majority of the European Parliament will follow our lead in July."
French prosecutors asked the EU assembly last November to lift the French National Front leader's immunity as a lawmaker so she could be prosecuted for remarks likening Islamic prayers to the Nazi occupation.
Ms Le Pen faces charges for comments she made in a speech to National Front supporters in December 2010 when she denounced the holding of Muslim prayers in the streets of France in areas where there are no mosques.
"For those who like to talk about World War II, to talk about occupation, we could talk about, for once, the occupation of our territory. There are no armoured vehicles, no soldiers, but it is an occupation all the same and it weighs on people," she said.
She follows in the footsteps of her father Jean Marie, founder of the French National Front, who was stripped of his legal protection as an MEP to face German Holocaust denials charges in 1998, he had previously been convicted of similar charge in France.
---
HUNGARY |
Jobbik calls for formation of "anti-Zionist" group in parliament
Wednesday, 19 June 2013, 11:26 | Source: politics.hu |
Provocative formations which could harm Hungary's interests such as an "anti-Zionist" section have not been and will not be formed within parliament, House Speaker Laszlo Kover said in a letter sent to radical nationalist Jobbik lawmakers on Tuesday.
In his letter, released to MTI by parliament's press chief, Kover called on Jobbik MPs Eniko Hegedus and Elod Novak to refrain from unlawfully "creating the impression" of such formations.
Hegedus and Novak had called a press briefing for Wednesday to announce that parliament would set up an "Anti-Zionist Group".
---
HUNGARY |
Parliament lifts immunity for former Jobbik MP who burned Israeli flag
Tuesday, 18 June 2013, 20:58 | Source: politics.hu |
Parliament yesterday lifted the right to immunity from prosecution of former Jobbik MP Balázs Lenhardt, who faces charges of hooliganism for burning an Israeli flag in public.
Lenhardt was detained by police last December after he made a speech outside the Foreign Ministry, and then lit an Israeli flag and cut a hole in the middle of it.
Prosecutor General Péter Polt proposed the suspension of his right to immunity.
Lenhardt quit the Jobbik caucus last November and was later expelled from the far-right party, and now sits in Parliament as an independent.
---
FRANCE |
Muslim woman loses baby after veil attack
Tuesday, 18 June 2013, 20:57 | Source: thelocal.fr |
A pregnant Muslim woman who was allegedly attacked in the suburbs of Paris by two 'skinheads' for wearing an Islamic face veil has suffered a miscarriage, it was reported on Tuesday.
A young pregnant Muslim woman, who was allegedly attacked in the street for wearing a veil has lost her baby, her lawyer announced on Monday.
According to reports in the French media, the woman, who was four months pregnant, was assaulted in the Paris suburb of Argenteuil on June 13th.
On Monday, the 21-year-old's lawyer Hosni Maati told AFP that the woman had since suffered a miscarriage.
"Her husband called me this afternoon. She lost the baby," the lawyer said, before adding that the family were devastated by the tragedy and would not be making any further comment.
A police source involved in the investigation also confirmed the miscarriage to AFP but did not confirm that the attack was the cause of her losing the baby.
In reporting the attack to police she described how she was set upon on Thursday morning by two men in the middle of the street, just after she had finished talking to her mother on the telephone.
She initially blamed the attack on two "skinheads", saying the two men "ripped the veil" from her head and tore part of her clothing.
The prosecutor for Pointoise, Yves Jannier, also said the woman had been kicked in the hip before she managed to flee.
French daily Le Parisien said police sources had some concerns over "inconsistencies" in her account.
A contentious law banning the wearing in public of the full Muslim face veil, the niqab, was introduced in France in 2010. It did not however forbid the wearing of the hijab headscarf.
The alleged assault on the woman came just three weeks after another veiled Muslim woman in Argenteuil was targeted in a similar manner.
And last week, Muslims in the neighbourhood clashed with police after officers attempted to arrest a woman in the street who was wearing the full Islamic veil in public.
According to Le Parisien, officers "were attacked. They were insulted and beaten, including punches". Police sources said they were forced to use tear gas to disperse the angry crowd.
In a statement the Collective against Islamophobia in France said everything would be done to "protect the rights of the victim".
"We appeal to the authorities that their investigation into this incident is carried out quickly and that strong measures are taken to ensure justice," the statement added.
The collective also called on residents of Argenteuil to show "restraint and calm" despite their "inevitable anger" over what happened.
The organisation also warned politicians against trying to use the Muslim community as a political pawn during next year's local elections.
And the Coalition against Racism and Islamophobia expressed "condolences and solidarity with the family" and its "concern and great anger over the tragedy" in a statement sent to AFP on Monday.
"The wave of attacks and Islamophobic incidents require a strong and uncompromising response from the government, which must express its solidarity with all victims, not just those which the interior minister deems worthy to receive," the statement added.
---
HUNGARY |
Nazi war crimes suspect Laszlo Csatary charged in Hungary
Tuesday, 18 June 2013, 12:04 | Source: Deutsche Welle |
A court in Hungary has charged one of the most-wanted, alleged Nazi war criminals at the age of 98. After spending much of his post-war life on the run in Canada, Laszlo Csatary had spent his recent years in Hungary.
Hungarian prosecutors have charged Laszlo Csatary with war crimes committed during World War Two. They say he helped deport thousands of Jews to the Auschwitz concentration camp. The 98-year-old had been under house arrest since last year after many years spent living in Hungary.
"He is charged with the unlawful execution and torturing of people thus committing war crimes partly as a culprit, partly as an accomplice," Bettina Bagoly, a spokeswoman for the Budapest Chief Prosecutor's Office said, adding that Csatary's case would go to trial within three months.
The Simon Wiesenthal Center, a human rights organization located in Los Angeles, named Csatary their most wanted war crimes suspect last year.
Few survivors are still alive as Europe commemorates the liberation of Nazi concentration camps on January 27. In Kosice, Slovakia, for example, Edita Salamonova is thought to be one of four who survived deportation.
Csatary was the Royal Hungarian Police commander in the city of Kassa in Hungary (present-day Kosice in Slovakia) during the war. In control of a Jewish ghetto, Csatary helped organize the deportation of some 15,700 Jews to Auschwitz. He was also accused of having inhumanely exercised his authority in a forced labour camp and brutalizing the inhabitants of Kassa.
He was convicted by a court in what was then Czechoslovoakia in 1948 and sentenced to death.
Csatary escaped to Canada in 1949 and settled in Montreal as an art dealer. In 1997 his Canadian citizenship was revoked because he was found to have lied on his citizenship application. He fled the country two months later.
Following information from the Simon Wiesenthal Center in 2011, Csatary was located in Hungary and first taken into custody in 2012.
---
GERMANY |
Zschäpe may face fresh attempted murder charge in NSU case
Tuesday, 18 June 2013, 12:01 | Source: Deutsche Welle |
A major German daily has reported that German public prosecutors are considering filing another attempted murder charge against the alleged co-founder of the neo-Nazi NSU cell, Beate Zschäpe.
The Munich-based Süddeutsche Zeitung daily reported on Tuesday that prosecutors might charge Beate Zschäpe with attempted murder in connection with a 1999 attempted bombing in Nuremberg. The incident came to light last week during the trial against Zschäpe and four co-defendants accused of complicity in the crimes committed by the neo-Nazi National Socialist Underground (NSU) group.
A spokesman for the public prosecutor's office, Markus Köhler, told Süddeutsche that an official investigation had been launched on the basis that the bomb was designed to kill at least one person.
The pipe bomb, disguised as a flashlight, was laid in a pub run by a man from Turkey. A member of the cleaning staff discovered it and suffered comparatively mild injuries because the bomb did not explode and shatter as it was designed to.
The NSU trial in Munich hopes to shed light on rightwing terrorism from a legal perspective; and there are political investigation committees. But many say more is needed – a whole new debate about racism in Germany.
"Had the pipe exploded, as the attackers planned, then the victim would have had no hands left, and perhaps no eyes," the Süddeutsche quoted an unnamed "expert familiar with the 1999 case" as saying.
The case came to light via co-defendant turned star witness Carsten S. last week. The 33-year-old, who has agreed to testify on most matters comparatively freely, told the Munich court last week that he had heard of NSU plans for the 1999 attack. He said that "the two Uwe's" - a reference to now-deceased alleged NSU co-founders Uwe Mundlos and Uwe Böhnhardt - had told him about their "flashlight," and that he later suspected they might have meant a bomb.
The defendant, a former member of the far-right scene who says he left in part because of his desire to live openly as a homosexual, also seemed to suggest in his testimony that Zschäpe was either partially aware or even unaware of the attack, saying the two Uwe's asked him not to tell her anything.
Beate Zschäpe, the sole surviving alleged co-founder of the NSU group, already faces charges tied to ten murders and 15 bank robberies, among other instances.
Police uncovered the NSU partly by chance late in 2011 after a botched bank robbery. Investigators found Mundlos and Böhnhardt dead, having apparently committed suicide. They also found the service weapon of a German policewoman, one of the NSU's ten alleged murder victims, at the scene - a key clue to unraveling the neo-Nazi group. The cell is also accused of killing eight men of Turkish origin and a Greek man between 2000 and 2009.
Subsequent evidence of investigative mistakes and irregularities with the NSU case cost several top German officials, including the head of the federal domestic intelligence agency, their jobs.
The ongoing NSU trial reopened in Munich on Tuesday.

---
BULGARIA |
Eight injured in clashes at Sofia HQ of Siderov's Ataka
Tuesday, 18 June 2013, 10:36 | Source: Sofia Globe |
Eight people, reportedly including a member of the Gendarmerie, were injured outside the Sofia headquarters of Volen Siderov's Ataka party as bottles and stones were thrown at a group of anti-government protesters on the night of June 17.
The tense situation continued past midnight, with large contingents of police keeping apart the protesters from the supporters of Bulgaria's ultra-nationalist party, which the protesters see as culpable in the debacle surrounding the current Bulgarian Socialist Party government, which stays in place with the support of the Movement for Rights and Freedoms.
The protesters who went to Ataka headquarters were a group that apparently had come from the fourth consecutive night of demonstrations that attracted several thousand people to demand that the Plamen Oresharski administration step down.
Earlier, Siderov had illegally blocked off the street near his headquarters, addressing a crowd from behind a throng of his beefier supporters. The Interior Ministry confirmed to the media that the blocking off of the street had been illegal and said that it was investigating.
Later, the situation was aggravated as obscenities and objects were hurled. Those reportedly injured included an Ataka MP, Kristian Dimitrov.
Protesters, who blame Ataka for its vote that provided the quorum in Parliament that made the BSP government possible three weeks ago, shouted at the Ataka group that they were "Janissaries", a reference to the force that was made up partly from Bulgarians under Ottoman rule. At the earlier mainstream part of the protest in central Sofia, outside the Cabinet office and Parliament, some protesters carried posters mocked-up to show Siderov wearing a fez.
Interior Minister Tsvetlin Yovchev told local media that police were seeking to stabilise the situation and to keep it from worsening.
Speaking to journalists, while his head was sheltered by boards held by supporters to keep any flying objects from falling on it, Siderov pointed to the "aggression" of the protesters.
It was not the first time that Ataka's headquarters have been the focus of protest since the BSP government, which includes MRF members, came into office. Soon after the administration was sworn in on May 29, a protest marched on Ataka headquarters, hurling abuse and objects at the building, prompting Siderov to hit out at authorities for failing to protect the building of his party.
Siderov has alleged that centre-right former ruling party GERB is behind the nationwide protests, seeking to destabilise the country, a charge that GERB rejects. Siderov said that GERB and "organised crime groups" allied to Boiko Borissov's party were seeking to provoke civil war in Bulgaria.
As events unfolded on the night of June 17, Siderov addressed the crowd, his words applauded by supporters and jeered by protesters.
A few days ago, amid the protests – organised in social networks and which with this exception have passed peacefully, with no clashes – warnings were issued online that agents provocateur would seek to engender an incident at Ataka headquarters.
---
FRANCE |
By-election: Socialists pushed out by far-right
Tuesday, 18 June 2013, 10:34 | Source: thelocal.fr |
A parliamentary by-election has left the French government humiliated after the ruling Socialist party was eliminated in the first round. The run-off ballot will be fought out between the opposition UMP party and the far-right National Front.
France's socialist government suffered the indignity of a first-round exit in a parliamentary by-election to replace a disgraced minister forced out over a tax-dodging scandal.
Former budget minister Jerome Cahuzac, who is facing charges of tax fraud, stepped down from his parliamentary seat in April.
In Sunday's by-election for his seat in Lot-et-Garonne, southwest France, the socialist candidate was pushed into third place - and thus eliminated.
The second-round run-off on June 23 will be fought between a candidate from the centre-right UMP party of former president Nicolas Sarkozy; and a member of the far-right National Front (FN).
The vote was marked by a turn-out significantly lower than in the 2012 general election: only 46 percent of the 75,000 voters eligible to have their say bothered to do so.
President Francois Hollande acknowledged that the result was fall-out from the scandal around Cahuzac, whose ministerial portfolio had included the fight against tax evasion.
For UMP president Jean-Francois Cope, the result was another "scathing repudiation of Francois Hollande and his policies".
Socialist party leader Harlem Desir called on voters to ensure the FN candidate did not win the second-round run-off vote.
Sunday's result was another slap in the face for the ruling Socialists after defeats last weekend in two other by-elections.
The party now has 292 deputies in the National Assembly: just three seats more than the 289 seats that ensures an absolute majority.
Through to the second round are the UMP's Jean-Louis Costes, who came first with 28.7 percent of the vote; and the FN candidate, 23-year-old Etienne Bousquet-Cassagne, who polled 26 percent.
Socialist candidate Bernard Barral came third with 23.7 percent
---
POLAND |
Polish court powerless to ban antisemitic party, official says
Monday, 17 June 2013, 12:27 | Source: JTA |
A Polish court said there are no grounds for removing an anti-Semitic party from the party register because prosecutors have not sought such a decision.
Polskie Radio on Thursday quoted Maja Smoderek, a spokeswoman for Warsaw's district court, as saying that the Together Party of the Slavonic Empire, which registered with the court in March, could not be removed from the list because "no prosecutor has lodged a complaint about the party."
Since its registration, the party has been increasingly forthright in its anti-Semitic rhetoric, Polskie Radio reported.
"We know who runs Poland … it's run by Jews, and particularly bad Jews," Party leader Jan Kielb said recently in an interview with Rzeczpospolita daily.
Kielb's party has no seats in parliament. It presented the 1,000 signatures and party statute required to register. Its charter speaks of the importance of "the Pole of true Slavonic blood."
Professor Piotr Winczorek, a member of the State Tribunal which rules on the constitutionality of the highest offices of state, told Polskie Radio that the party was in violation of the constitution, which bans "activities of parties that call for racial hatred."
He called on prosecutors to take steps to have the party removed from the register.
---
GERMANY |
Zschäpe's letter may complicate case
Sunday, 16 June 2013, 23:16 | Source: the local.de |
Accused NSU terrorist Beate Zschäpe has refused to speak in court, but she has conducted a 26-page correspondence with a radical right fellow prisoner that could complicate her defence.

The Süddeutsche Zeitung, in an article published on Saturday, called the lengthy letter "highly problematic" and said lawyers for some of those believed to have been killed by Zschäpe and her associates want the letter to be admitted as evidence.
Although she has refused to say anything in either court or a possible plea negotiation, the newspaper said she has struck up a friendship with a right wing extremist serving a prison sentence in Bielefeld. The man started serving an eight-year sentence in 2007 for a major robbery involving extortion.
As a 20-year old, the convict shot a Tunisian-born employee at a food market four times. The man only survived because of an emergency operation.
The convict's name is Robin S. and he belongs to the radical-right scene in Dortmund. Zschäpse doesn't know him personally but has trusted in him, the paper said. She told him that she feels she has been prejudged.
The paper said the letter not only gives readers insight into Zschäpe's thinking, but is also politically and legally highly relevant.
Zschäpe thanked Robin S. for supporting her and for agreeing to have contact with her even though he is facing a hearing soon on whether he could receive early release date.
The accused radical right terrorist said she wonders whether she can get a fair trial and noted that Chancellor Angela Merkel, during a visit to Turkey, promised a full investigation as to what happened with the NSU affair. She also told Robin S. that she feels the interior minister has prejudged her and she discusses details of her life.
As expected the defence attorneys won't comment, while lawyers for the deceased individuals are pushing for the letter's contents to be revealed, though lawyers for the state's prosecution have yet to voice an opinion on the letter, which Zschäpe started writing in March.
The letter is also believed to contain some neo-Nazi code language. For example Zschäpe suddenly writes that one shouldn't freeze when it is 18 degrees. The number 18 is a code number for Adolf Hitler, as A is the first letter of the alphabet and H is the eighth.
As important as the letter is for some of the co-plaintiffs in the case, the higher court in Munich apparently thought the letter was irrelevant, the paper wrote. The letter passed through the post control of the court and was first discovered in Bielefeld, where the convict Zschäpe is writing to is being held.
The letter was then sent to the Munich court but it hasn't been reviewed for its relevance yet. A court spokeswoman denied that the court had made a mistake by overseeing the letter.
Zschäpe said in the letter that she felt mistreated already as a child and that she was not going to confess, nor would she damage anyone who is close to her. She said she feels she is a unique person.
---
CZECH REPUBLIC |
Czech anti-Roma organiser doesn't recall urging mass murder
Friday, 14 June 2013, 22:10 | Source: Romea |
Jan Dufek, the man who was so looking forward to Czech citizens finally rising up to murder off Romani people, is now claiming that he doesn't stand by what he said. "I was upset and unfortunately I can't take it back now," Dufek has told news server iDNES.cz. The well-known neo-Nazi did not clarify to iDNES.cz whom exactly he had in mind when he was talking about mass murder.
"I don't know anymore, if I hadn't seen the video recording, I wouldn't have even remembered what I said then," Dufek claims. Jan Dufek and Jindøich Svoboda are the organizers of what so far has been just one anti-Roma demonstration in the Czech town of Duchcov, a protest that was followed by an attempted march on Romani people's residences, but the pair have announced other demonstrations for the future.
Mayor Jitka Bártová recently did her best to calm the situation in the town after the demonstration by convening a public discussion. As can be seen from the statement captured on camera, Dufek and Svoboda are convening these anti-Roma demonstrations in order to deteriorate and escalate the situation such that non-Romani people will start murdering Romani ones. News server Romea.cz was the first to report on the case.
"We have the video and we are intensively investigating the case. Detectives are evaluating the recording and other evidence. The legal qualification of the crime has not yet been established. Whether the person captured in the recording is criminally liable is the subject of further investigation," Teplice Police spokesperson Daniel Vítek said. "Jan Dufek may have committed a felony per Section 356 of the Criminal Code by making a statement inciting hatred against a group of people and/or restrictions on their rights and freedoms.
Because he did that through television, he could face between six months and three years in prison should he be charged and convicted," lawyer David Oplatek, who has long been involved in litigating hate crimes, told news server Romea.cz.
Let's take a closer look at this man who claims he is so innocent and so upset that he loses his memory. We can start with some samples of the opinions posted to his Facebook profile:
"Today it doesn't matter if it's the gypsies or the Muslims. The white race is dying. It is no longer as grand and proud and that is thanks solely to the humanists and pseudo-saviors. How much longer will this dark era last?"
"Just you try to vote for that JEW FIŠER!!! I don't understand how anyone can love that gypsy rhythm and that c*** Rolincova!!??"
Posted beneath a photograph of an explosion: "Ha ha I already know how we'll get the gypsies out of Dux" Jan Fischer responds to this post: "Share the missiles around" Dufek responds: "Fišo I'd be very glad to, one batch of missiles per town" Fischer responds: "If by one batch you mean a full B52"
According to Antifa.cz, both conveners of the anti-Romani actions in Duchcov are neo-Nazis. "Dufek is a longtime neo-Nazi activist. He has been previously convicted of giving the Nazi salute, weapons possession, and welfare fraud. He has reportedly also previously participated, along with a larger group of people, in attacking a group of Romani people in Slovakia.
While standing on the main square in the town of Krupina there, he first insulted Romani people, gave the Nazi salute, threatened to shoot them in the head, and then physically assaulted them," Antifa writes in a press release.
Antifa.cz also reported on the neo-Nazi affiliations of Jan Dufek in a January 2008 article entitled "Oslavy v re˛ii Jana Dufka z Duchcova" ("Celebrations as directed by Jan Dufek of Duchcov"). So far only Dufek has been captured on camera discussing the mass murder of Romani people.
As news server Romea.cz reported previously, Dufek's colleague Svoboda has expressed himself in the same terms on his own Facebook profile, as follows: "So finally it's out! The secret video of the assault in Duchcov! Those black fuckers! They should all be massacred! How much longer will we tolerate this? I propose that it is time to unite and fucking give them what for! I'm going to go throw up and then I'm going to sharpen my knives...."
Jindøich Svoboda, known by the nickname "Pinïa", defended himself in a Facebook post stating that he is neither an extremist nor a radical. However, he also admitted being a member of the right-wing extremist Workers' Social Justice Party (Dìlnická strana sociální spravedlnosti - DSSS).
Neo-Nazis and other ultra-right extremists are now competing with activists from the opposing camp to see who can announce more events in the town of Duchcov.
The Konexe association and the Otrokem rasy ("Slave of Race") initiative have already announced events for several public spaces for as far as three months in advance, but the DSSS, Dufek and Svoboda are neck and neck with them in terms of making their own announcements. An overview of the events announced there is available on the town's official website.
---
NETHERLANDS |
Dutch Speaker resigns over far-right Wilders' 'snub'
Friday, 14 June 2013, 22:05 | Source: expatica.com |
The speaker of the Dutch upper house said late Thursday he will resign after allegedly snubbing far-right leader Geert Wilders during King Willem-Alexander's enthronement in April, media reported.
Fred De Graaf is to stand down after allegedly keeping anti-Muslim politician Wilders from joining a select group of lawmakers escorting the king during the April 30 ceremony that was beamed to millions of television screens around the world.
De Graaf denies any wrongdoing, but said from London late Thursday that he would resign on Tuesday because his "integrity had been called into question", national news agency ANP reported.
The scandal erupted after De Graaf, master of ceremonies for the enthronement, told a Dutch newspaper this week how the five lawmakers accompanying the king during the enthronement ceremony were chosen.
"In the back of my mind I was certainly thinking that the image of Wilders next to the king would have drawn a lot of attention," De Graaf told Wednesday's Volkskrant daily.
Wilders has been critical of the royal family in the past, including slamming then-queen Beatrix for wearing a headscarf during a visit to the Gulf in 2012.
De Graaf is a member of the Liberal VVD party that is in a ruling coalition with the Labour PvdA, but as speaker he is supposed to be politically neutral.
As one of parliament's longest-sitting MPs, Wilders would have been a candidate for the royal cortege. His anti-immigration PVV party has 15 seats in the 150-seat lower house.
"This does him credit, the only right decision," Wilders told ANP after the resignation announcement.
"The impartiality of a house speaker must be beyond dispute, and that was clearly not the case here."
---
ITALY |
Italian politician branded a racist after rape comment
Friday, 14 June 2013, 21:02 | Source: Reuters |
A local party official for Italy's Northern League caused a national uproar on Thursday for posting a violent comment on her Facebook page aimed at the country's first black minister.
Dolores Valandro, an elected local councillor in the northern city of Padua, wrote above a picture of African-born Integration Minister Cecile Kyenge that she should be raped.
Valandro's comment was in reference to a story from an Italian web site called "All the Crimes of Immigrants" about the alleged attempted rape of two woman by an African man.
"Why does no one rape her, so she can understand what the victim of this atrocious crime felt? Shame on you!" Valandro wrote, in capital letters.
Her comment was quickly circulated and condemned on Facebook and Twitter, and the story shot to the top of news web sites.
"This type of language is beyond me because it incites violence, and it tries to incite violence by the general public," the 48-year-old Kyenge, who was born in Democratic Republic of Congo and came to Italy when she was 18, replied on Twitter.
"This is an insult to all Italians," she added later.
Prime Minister Enrico Letta joined scores of public figures in condemning the rape comment.
"Cecile Kyenge is right. Each of us should be offended, as I am. Cecile merits my personal solidarity, as well as that of the government and the country," he said in a statement.
Lower house of parliament speaker Laura Boldrini said: "The words of the League councillor from Padua, Dolores Valandro, are unacceptable and full of racism and hate ... What's even worse is that it was a woman with a political role suggesting rape as a punishment."
Northern League regional secretary Flavio Tosi said Valandro would be ejected from the party for her "unspeakable" comment.
After becoming minister in April, Kyenge has been regularly insulted on far-right web sites.
Mario Borghezio, another Northern League member, was expelled from the Europe of Freedom and Democracy group in the European Parliament earlier this month for making racist remarks about Kyenge, including saying she wanted to impose Congo's "tribal traditions" on Italy.
Kyenge is campaigning to make it easier for immigrants to gain citizenship, and she backs a law that would automatically make anyone born on Italian soil a citizen.
Valandro later apologised in a radio interview and denied the Northern League was racist. "It was a comment made in a moment of anger, and I'm sorry," she said.
"We're always called racists, but it's not true. I've met Congo nationals in city hall myself. It's not a question of racism. If people come here they have to respect the rules a little bit," she said.
---
GERMANY |
Tearful Testimony Hints at Unknown Attack
Wednesday, 12 June 2013, 16:41 | Source: Spiegel |
Carsten S. had already admitted to procuring a gun for the murderous neo-Nazi trio known as the NSU. Yesterday, he indicated that the group had perpetrated an additional bombing that authorities were unaware of. He also exculpated the main defendant, Beate Zschäpe.
After 18 months of intense media attention, legal investigations and parliamentary hearings, it seemed unlikely that the ongoing trial against the neo-Nazi terror trio National Socialist Underground (NSU) would bring new crimes to light. But on Tuesday, co-defendant Carsten S. abandoned any attempts to withhold information from the court -- and seemed to indicate that one more attack can be added to the NSU's long list of violent misdeeds.

A tearful Carsten S., at times blubbering so badly that he could not be understood, told the court that Uwe Böhnhardt and Uwe Mundlos -- the two deceased members of the NSU who committed suicide in November 2011 -- implied to him at the end of 1999 or the beginning of 2000 that they had "placed a flashlight in a store in Nuremberg."

Only later, he testified, did he begin to think the "flashlight" might have been an explosive. The judge expressed surprise: "Why didn't you say anything about this earlier? I haven't read this in any deposition." The response from Carsten S.: "I only just now came to the conclusion that it is time to come clean." Regarding the flashlight, he said: "There was perhaps an earlier attempted attack that I blocked out."
It certainly isn't impossible that the story told by Carsten S. is true. The NSU, which stands accused of murdering 10 people between 2000 and 2007 in addition to perpetrating several bomb attacks and bank robberies, was just getting started when the meeting referenced by Carsten S. took place in a café in the Galeria Kaufhof department store in Chemnitz. It was, in fact, during that meeting that Carsten S. handed over the Ceska handgun he had obtained for the trio -- a weapon that was used to kill nine of the 10 murder victims.
Newsmagazine Stern reported that a bomb did in fact go off in a restaurant run by a Turkish man in Nuremberg in 1999, referring to a contemporary story in the city newspaper Nürnberger Nachrichten. Federal prosecutors, however, said they are unaware of the incident.
Böhnhardt and Mundlos killed themselves as police closed in on them in Eisenach following a bank robbery. The third member of the group, Beate Zschäpe -- who is the primary defendant in the ongoing trial -- immediately set the trio's house on fire in Zwickau, presumably to destroy evidence. It was only when police discovered the Ceska pistol while investigating the two events that they realized the trio was likely responsible for a string of murders targeting small business owners with foreign roots. Until that moment, police had thought the murders were the result of Turkish underworld infighting; the German press had referred to the killing simply as the "doner killings" because the victims included two doner kebab shop owners.
Carsten S., who admitted to having supplied the murder weapon in testimony last week, has since turned his back on right-wing extremism, though he had been wary of incriminating his former comrades.
That changed on Tuesday. He told the court that Ralf Wohlleben, a co-defendant who stands accused of providing material support to the NSU, knew that the trio had committed serious crimes. Wohlleben, S. said, spoke on the phone with the NSU trio in his presence and afterwards chuckled and reported that the three had shot someone. It is the first solid indication thus far that Wohlleben knew of the NSU's criminal activity.
But the trial's primary defendant, Zschäpe, had an easier day of it on Tuesday. During the meeting with Böhnhardt and Mundlos in Chemnitz, Carten S. said that Zschäpe joined them just as they were talking about the "flashlight" in the Nuremberg store. They immediately went silent and said "Shh, so that she doesn't hear."
It has yet to be proven, after all, that Zschäpe knew about the crimes being committed by Mundlos and Böhnhardt.
Hnh adds: Carsten S's full name is Carsten Schulz and Holger G's full name is Holger Gerlach
---
USA |
Rosenberg diaries tracked down in US
Tuesday, 11 June 2013, 01:53 | Source; The Independent |
History's account of the Third Reich and the extermination of millions of Jews in the Holocaust may have to undergo some late revisions upon the surfacing in America of 400 pages of the long-lost diaries of Alfred Rosenberg, a close confidant of Adolf Hitler and an architect of the Nazi genocide dubbed "the Final Solution".
After years of dead ends, researchers have tracked the papers down to a home near Buffalo in New York. They will be formally unveiled this week by the US government in conjunction with the US Holocaust Memorial Museum, based in Washington.
According to a preliminary analysis, the writings both reveal new details of the internal machinations of the Nazi command and challenge some standing theories about the period.
Known to Second World War scholars simply as the Rosenberg diaries, their pages promise a priceless window into the private ruminations of their author, who was hanged after his conviction at the Nuremberg trials. Having been convicted of crimes against humanity, he was one of a dozen senior Nazi officials executed in October 1946.
The pages that have reportedly now been retrieved span the years between 1936 and the winter of 1944. Most of the passages are written in Rosenberg's own handwriting, some on official Nazi stationery.
Scholarly debate about the pages, which include discussion of the planning for the mass extermination of Jews and other East Europeans, and their historical significance, is sure to be lively. "The documentation is of considerable importance for the study of the Nazi era, including the history of the Holocaust," a first assessment of them prepared by the Holocaust Memorial Museum and seen by the Reuters news agency concludes.
The museum also signals controversy ahead. "A cursory content analysis indicates that the material sheds new light on a number of important issues relating to the Third Reich's policy," it says. "The diary will be an important source of information to historians that complements, and in part contradicts, already known documentation."
Described in the pages are meetings between Rosenberg and Hitler as well as other top figures in the Reich, such as Heinrich Himmler and Hermann Goering. They reportedly also speak to tensions at the top of the Reich, for example when Rudolf Hess fled to Britain in 1941 and with regard to the looting of art and cultural artefacts throughout Europe, a programme of organised theft largely supervised by Rosenberg himself.
After being introduced as key evidence in the Nuremberg trials at the end of 1945, the Rosenberg diaries mysteriously vanished. It was long assumed they had been spirited out of Germany and to America by one of the prosecutors, Robert Kempner, who himself had fled the Nazis in the 1930s and had become an American.
After Kempner died in 1993, legal disputes over his papers raged for nearly 10 years between his children, his former secretary, the Holocaust museum and a local debris removal firm. Although thousands of historical documents were eventually recovered, when officials arrived to retrieve them from his home in 1999, they discovered that many thousands of pages were missing and the diary itself remained elusive.
Early this year, the Holocaust museum and an agent from Homeland Security Investigations attempted to find the missing diary pages. It appears they had been in the hands of Kempner's former secretary who moved with them to the home of an academic near Buffalo.
---
EUROPE |
In France and Europe the far right kills
Monday, 10 June 2013, 09:08 | Source: Hurriyet Daily News |
Astonishment but no surprise: the far right has killed in France as it kills elsewhere in Europe. The young Clement Méric died under the blows of skinheads in the center of Paris. Who can pretend to be stunned?
The murder of Clement is the symbol of the rise in far-right violence in Europe. From skinhead groups to the Front National (FN) party, the whole French far right has gone along with, legitimized and organized this violence, thus is largely responsible for this assassination. Today like yesterday, this political family is the camp of murder.
We know well that Alexandre Gabriac, the leader of the "Jeunesses Nationalistes," went to Greece last December to get inspiration from Golden Dawn. With antisemitism, symbols inspired by the swastika, racism, genocide denial, nostalgia for the Third Reich, they combine legal and illegal action, running for elections and violently assaulting migrants on a daily basis.
As soon as they entered the Parliament in May last year, we have constantly supported the democrats in Greece. In France, after a so-called exclusion, Alexandre Gabriac has been maintaining close relationships with the FN.
We also know that the Hungarian Guard, which is the paramilitary militia of Jobbik, terrorizes Roma people, often forces them to flee Hungary, and even regularly murders some of them. Jobbik is the cornerstone of the European strategy of the FN. Together, they founded in 2009 in Budapest the "Alliance of European National Movements."
We all remember the massacre of the young social democrats on Utoya, in Norway, in 2011. Jean-Marie Le Pen then declared that migration, not the killer, was to blame for the massacre, and Marine Le Pen supported him. They kill in Paris. Who can believe in the innocence of the FN regarding these political crimes?
In France, during the mobilization against gay marriage, all forms of hatred have been expressed: against homosexuals, women, migrants, secularity.This mobilization has allowed the violence which is spreading all over Europe to get the legitimacy and social support to spread in France.
Hate speeches in the Parliament, rallies where leaders of democratic and antidemocratic parties walked side by side, too-weak condemnations of the violent acts which took place at the end of the protests, which were political attacks against democracy, the acceptance of all the enemies of democracy, all the racists and all the far-right thugs at these rallies have paved the way to, made possible the murder of Clément.
Now, along with the shock, the renewal of involvement must come – with that of public authorities to come first. It is fundamental that they resume their support for the fight against racismand for democracy. It is high time to give life to two of the main thematics of the electoral campaign of François Hollande: youth, who have been hit in the heart today, and equality, which has been assaulted by months of a gruesome reactionary mobilization. Last, it is of course a democratic necessity to ban far-right groups which bear responsibility for the murder of Clément.
It is also time for the renewal of the involvement of civil society, which has been too passive when opposing the rise of the far right in France like elsewhere on our continent. We must tolerate no hate speech and no illegal act, since none of them are innocent. We must not let ourselves be impressed by the feeling of might and permissiveness which the enemies of democracy feel because we, the democrats, are the many, in France like elsewhere in Europe.
What is at stake with this involvement is clear: liberty, democracy and life. Let us ensure that Clément is the last one to fall under the blows of the far right.
---
SWITZERLAND |
Swiss back tighter asylum rules
Sunday, 9 June 2013, 23:04 | Source: BBC |
Swiss voters have overwhelmingly backed a controversial move to tighten asylum restrictions amid a spike in the number of refugees in the country.
Almost 80% of voters approved changes made to the asylum law last September, final results of a referendum said. Under the new rules military desertion is no longer a reason for granting asylum, and people cannot now apply through Swiss foreign embassies.
About 48,000 people are in the process of seeking asylum in Switzerland. The BBC's Imogen Foulkes, in Geneva, says Switzerland has a long tradition of generosity towards asylum seekers - its proportion of refugees per head of population is twice the European average.
But the number of asylum seekers is rising sharply and is at its highest in a decade. That, coupled with sharp rises in immigration overall, has led to public concern that too many people are coming to Switzerland, our correspondent says.
'Economic reasons'
Human rights groups and left wing parties gathered enough signatures to force Sunday's referendum, in a bid to get the government measures withdrawn, warning that they could lead to discrimination.
Speaking after the result, the groups described the outcome as "a disaster for asylum seekers and refugees" that left "no winners". One of the most controversial changes was the removal of military desertion as a valid reason for asylum.
Desertion is the key reason cited by Eritreans -the largest group of applicants last year - whose country imposes unlimited military service on all able-bodied men and women. The result also removes the provision - unique in Europe - that enabled asylum seekers to claim asylum in Swiss embassies around the world.
Celine Amandruz of Switzerland's largest party, the populist Swiss People's Party (SVP), however welcomed result, telling AFP news agency that that nine out of 10 people who sought refuge in the wealthy country did so "for economic reasons".
"There is clearly a need to change this system," she said. Switzerland counts one asylum seeker for every 332 inhabitants. The European average is one asylum seeker for every 625 inhabitants.
---
FRANCE |
A former skinhead speaks out on far-right violence
Sunday, 9 June 2013, 23:01 | Source: France24 |
William Deligny was a skinhead in the 1980s, before "overdosing on violence" and changing his lifestyle to become a Hindu monk within the Gaudiya Vaishnava Congregation in Saint-Étienne du Rouvray.
"This attack is just awful, but I can't say I'm entirely surprised, because violence is the skinhead's way of life. It is at the root of their beliefs – it is exhibited in the way they dress, in everything they try to convey about themselves.
The attack on Clément Méric is fairly typical of the cowardly behaviour of skinheads: they only fight when they know they are in a position of strength. In this case, the two groups were about equal in size, but the skinheads knew that they were far better equipped to fight than the anti-fascism activists.
The skinheads are guided by clear rule: they are not allowed to lose. So, they'll always escalate the violence: if someone resists, they'll take out weapons, call in back-up, and so on. Attacks always end with the skinheads dispersing and running away, to later meet up somewhere else."
Leftist activists are skinheads' natural enemies

"Ganging up to attack someone is a key aspect of the skinheads' group mentality. The type of person who joins this movement is very often a distressed, lost person, living at the margin of society, who rejects their family and is looking for something to anchor them. They are deeply frustrated people, who believe their frustration comes not from within but is caused by others.
They create enemies to make sense of their own frustrations, which breeds violence. The movement's leaders reject those who don't know how to fight, and so violence becomes a way of life. When I was a skinhead, I found it thrilling to beat someone to a pulp; to see them lying on the ground, unconscious.
This descent into violence is largely the result of ignorance. About 90% of skinheads don't know why they hate people different from them, but hate they do. This hate is particularly strong for far-left activists: they are also extremists; they too seek a world where everyone thinks like them.
Leftist activists are the skinheads' natural enemies. This hatred of leftists has only increased over the last two decades. Initially, skinheads weren't necessarily very political; they were mostly a counter-culture.
The movement reacted to the rise of "skinhead hunters" toward the end of the 1980s by latching on to far-right ideas, notably under the guidance of Serge Ayoub."
---
SWEDEN |
Sweden, 'riots' and far-right Facebook vigilantism
Sunday, 9 June 2013, 22:58 | Source: IRR |
In the UK 'riots' of August 2011, the EDL formed a vigilante group in south London and ended up attacking black passers-by and the police. In Sweden, the Research Group (an independent group of engaged Swedish citizens who investigate stories that don't get properly reported) has drawn attention to neo-Nazi 'vigilantism' during the May 2013 'riots' in Stockholm.
A Facebook page was set up by men linked to the Third-positionist Party of the Swedes (Svenskarnas Parti), the neo-Nazi Swedish Resistance Movement (Svenska Motståndsrörelsen) and past members of the National Socialist Front who appealed to 'firms' from three Stockholm football clubs (Djurgården, Hammarby and AIK) to form a 'national guard' to end the 'race riots' as 'all attacks on the Swedish society' are 'an attack on Swedishness' and, as such, 'will be answered by us'.
The Facebook page included this call to action: 'We do not negotiate with terrorists! Talk to your friends, families and acquaintances. Tonight we will go out and take our city back from these hooligans'.

It seems that the aim of the Facebook grouping was to form a mob to punish for the rioting young people whose appearance marked them out as of immigrant origin. For all their bravado, the fascist national guard seemed to have concentrated on districts of Stockholm not affected by the disturbances.
In Storvreten, for instance, they beat up a 15-year-old boy who could not get away because he was on crutches. They attempted an immigrant hunt in the nearby suburb of Bredång, but local residents who had gathered to stop the 'riots' spreading to their neighbourhood, saw them off.
By the time the neo-Nazis and football firms arrived in the suburb of Fittja, the police had been alerted. When the neo-Nazi 'national guard' attempted to repeat their vigilante activities the next day, they ended up driving around the southern suburbs of Stockholm all under the watchful eye of the police cruising alongside them.
---
RUSSIA |
Hundreds march in Russian pro-nationalist rally
Sunday, 9 June 2013, 22:56 | Source: RIA Novosti |
Hundreds of people chanting pro-nationalist slogans gathered in a small town in central Russia on Saturday to hold an unsanctioned rally called up by far right activists following a local brawl.
The provincial town of Udomlya in the Tver Region has become well known in Russian blogosphere this week after a June 1 shooting incident between a group of locals and residents from southern Russia that left several injured.
A video of the shooting was released online drawing discontent of far right activists in social networks who called for revenge and proclaimed Saturday as "Day of Rage" in the town. Local news portals reported that the town's streets were deserted in the afternoon as many residents feared mass brawls.
The police estimated that some 400 people took part in the action, including those from other towns and cities; while the local authorities put the number at around 100. At least three people were detained. No one was reported as injured.
The demonstrators marched in Udomlya's downtown chanting "Russia! Russia!" In the country, where mass protests concentrate mostly in big cities, a rally of hundreds is unusual for a small regional town. The incident is another sign of growing nationalist sentiments in the country against residents from Russia's the Caucasus regions and migrants from the Central Asia.
---
POLAND |
Polish far-right unites for 2014 EU elections
Sunday, 9 June 2013, 22:54 | Source: FOCUS News Agency |
Poland's far-right nationalist movement RN said Saturday it was gearing up for the 2014 European Parliament elections and the Polish legislative vote the following year, AFP reported. "We want to make this clear to the current elites: your time is up," said Robert Winnicki, head of the bloc of dozens of small nationalist, ultra-Catholic and eurosceptic groups.
"We don't believe in the system you built in our country. Our country because we are Poles and not Europeans or citizens of the world," he said at the group's congress in Warsaw. "Poland is and must remain a Slavic and Christian country."
Delegates from the movement's various groups inked a joint mission statement Saturday to defend a "national identity" founded on Christian values, the traditional union between man and wife, and the Polish zloty currency.
An EU member since 2004, Poland has vowed to meet eurozone entry targets by 2015 but says it is in no rush to join the single currency. The RN includes former supporters of the nationalist and ultra-Catholic party LPR, which vanished from the Polish political scene after the 2007 elections pushed it out of parliament and ushered in today's ruling centre-right.
Winnicki said the movement was currently getting itself organised at the regional level and would decide this year whether it would participate at the European Parliament elections and the 2015 Polish vote. The RN has held several "walks for independence" in the capital and elsewhere, many of which degenerated into clashes with opponents.
---
FRANCE |
Clement Meric killing: France 'to dissolve' far-right group
Saturday, 8 June 2013, 17:33 | Source: BBC |
The French government is to take steps to break up a far-right group allegedly linked to the death of a left-wing activist.
Prime Minister Jean-Marc Ayrault has asked the interior minister to take steps "immediately" to dissolve the Revolutionary Nationalist Youth (JNR).
Five people are under investigation over the death of Clement Meric, 18.
He was badly beaten in a clash between far-right and anti-fascist activists in Paris on Wednesday, and later died.
The Paris Prosecutor, Francois Molins said according to witnesses the two groups had run into each other by chance in a busy shopping district near St Lazare train station, where a fight broke out.
He said the arrested suspects claimed to have responded to provocation by the left-wing group.
All five suspects went before a judge on Saturday, two days after they were detained.
According to the prosecutor, the main suspect named Esteban, 20, was being investigated on suspicion of murder.
"The [suspect] named Esteban acknowledged to police that he had struck Clement Meric twice - bare-fisted, he claimed - including the blow that caused him to fall to the ground," Mr Molins said.
Other witnesses said "Esteban" had worn a knuckle-duster.
"A friend of Clement Meric said he saw him with a knuckle-duster, while another witness at the scene referred to a 'shiny object' in his hands."
Clement Meric had taken part in demonstrations for left-wing causes
Two sets of knuckle-dusters had been found at his home, the prosecutor added.
The teenager was placed on life support but was declared brain dead and died on Thursday.
French President Francois Hollande said he condemned the attack "in the strongest terms".
France has seen increasing tension between left and right, following a fierce debate over the introduction of same-sex marriage.The JNR is the militant wing of a far-right movement known as the Third Way.
It has denied any link to the brawl. Its leader, Serge Ayoub, has been questioned by police following the killing but is not a suspect.
But Mr Molins said on Saturday that all the suspects under investigation had ties to the Third Way. Only one, a young woman named Katia, was said to have admitted being a member, he added.
Prime Minister Ayrault said in a statement: "I have asked [Interior Minister Manuel Valls] immediately to begin the procedure... to proclaim the dissolution of the Revolutionary Nationalist Youths."
The government has vowed to crackdown on fascist groups.
Mr Valls said: "Sadly such movements are resurging... racists, anti-Semites and homophobes".
France's main far-right party, the National Front, described the killing of Mr Meric as "appalling".
---
GERMANY |
Neo-nazi's mother sheds light on his disappearance
Saturday, 8 June 2013, 16:10 | Source: Spiegel |
Uwe Böhnhardt's mother testified before the NSU parliamentary investigative committee on Thursday.
Peter Böhnhardt was just 17 years old when his lifeless body was deposited outside the door of his parents' house in the eastern German city of Jena. The circumstances surrounding his death have never been completely solved. Jürgen and Brigette Böhnhardt suspect that their son fell while climbing on castle ruins nearby and that his friends, afraid of any consequences, dropped his body off on the asphalt during the night.
That happened in 1988. On Thursday, a quarter-century later, Brigitte Böhnhardt sat in Room 101 of the parliamentary building of the eastern state of Thuringia, in the capital city of Erfurt. A tall woman, she speaks in a soft but surprisingly high-pitched voice. The 65-year-old teacher is the first relative of a suspected member of the National Socialist Underground (NSU), the neo-Nazi terror cell that killed 10 people from 2000 to 2007, to be questioned in public.
She and her husband lost another son as well. Ten years after the death of his older brother, Uwe Böhnhardt went underground. On Nov. 5, 2011 -- 13 years, nine months and 10 days after Uwe descended into a life of crime -- his parents received the second report of a death: Beate Zschäpe telephoned in the early morning and told Brigitte that her younger son had also died.
'It Couldn't Have Happened That Way"
That wasn't the only bad news. Jürgen and Brigitte would then learn from the police that their son was killed with a shot to the head from his accomplice and friend Uwe Mundlos. The two men are accused of fatally shooting 10 people -- including eight men with Turkish roots, another man with Greek roots and a female police officer -- during a killing spree across Germany between 2000 and 2007, in addition to robbing banks and carrying out bombing attacks.
The NSU parliamentary investigative committee is currently examining the events leading up to the trio going underground on Jan. 26, 1998. The trigger was a police raid on three garages in Jena, one of which belonged to Jürgen and Brigitte Böhnhardt. "It couldn't have happened the way the police describe it," Brigitte says.
In front of the investigative committee on Thursday, she described the raid as follows: At 7 a.m., the doorbell rang and there was knocking at the apartment's front door. "This is the police! Open up!" It wasn't the first time police had sought out the family's home; Uwe Böhnhardt was deeply involved in the neo-Nazi scene, and there had been previous raids. Brigitte Böhnhardt woke up her son. The police officers presented their search warrant, looked around Uwe's room and demanded access to the garage the family had rented across the street.
Brigitte Böhnhardt protested. It was her car parked in the garage, not Uwe's. Ultimately, however, she gave up and sent her son down with an officer at 7:30. "Make sure the police don't find anything that wasn't there before," she told him. She is very distrustful of the police.
1.4 Kilograms of TNT
When Brigitte Böhnhardt returned home that afternoon, she was unaware that her son's life in the underground had already begun. The keys to both garages as well as her car key had been returned to their places. But according to what Uwe told his mother weeks later, at first by phone and then at a secret meeting, he had locked everything up after the raid and then accompanied the officers to an additional garage in another part of town. There, he told his mother, a policeman growled at him, "It's your turn now. The arrest warrant is on its way."
Uwe Böhnhardt reacted by climbing into his red Hyundai and driving off. He then picked up Uwe Mundlos and Beate Zschäpe, the other two members of the NSU, and they disappeared.
The police found two pipe bombs, parts needed to construct explosives and 1.4 kilograms (3 lbs.) of TNT. There are conflicting statements from officers who were at the scene regarding whether the explosives were discovered before or after Böhnhardt drove away.
Police claim that Brigitte Böhnhardt's story is inaccurate and that nobody told Uwe he was about to be arrested. They say that Uwe's Hyundai was in his parents' garage when he opened the door. After the car was searched, they say, Uwe rolled it out of the garage, asked the officers present if he was still needed and then drove off -- straight into hiding.
In her testimony before the parliamentary committee on Thursday, Brigitte Böhnhardt cast doubt on many aspects of the police version of the story. She says that her family's relationship to the Jena police at the time was "very tense," and she claims that officers had planted alleged "finds" on her son during previous raids, including three knives and a crossbow.
She also says that police entered their apartment when nobody was at home. Indeed, she remains so mistrustful that she even doubts that the police found explosives during the January 1998 search. "Uwe Mundlos' father also thinks it was a set-up," she said on Thursday.
Son and Criminal
Brigitte Böhnhardt said that she first realized that her son planned to live his life underground when his car key and registration turned up one day in the mailbox. "I called Uwe Mundlos' mother, and she was just as surprised as I was," she said. She also spoke with Ralf Wohlleben -- who is currently a defendant along with Zschäpe at the NSU trial in Munich -- and the well-known neo-Nazi André K., but neither knew where her son was.
Investigators looking into the whereabouts of the trio questioned her, Brigitte Böhnhardt said, and asked her to persuade them to turn themselves in. One, she says, threatened her by saying: "If we find them, Ms. Böhnhardt, our people have learned that we are quicker (on the draw)." She says she was sure that the police wanted to shoot them.
Her relief was great when her son finally called her on the phone. She had "never cried so much," she recalled on Thursday. "Finally I knew that he was still alive and that they were together, that Uwe wasn't alone and that they were all alive."
She and her husband, she made clear, didn't trust local or state police at all. She says that, after receiving a note in her mailbox, she drove to a secret meeting with the trio in a rental car. She said she never would have considered taking a police officer with her. "We wanted the kids to turn themselves in," she said, "but we didn't want to betray them."
Jürgen and Brigitte Böhnhardt once said during testimony that the unsolved death of their second son, Peter, in 1988 was also a significant blow for their third son Uwe and may have played a role in his radicalization. On Thursday, she said in a strong voice: "In addition to the criminal, I still see my son, as well. And everyone will also grant me that."
---
FRANCE |
Anti-fascists demonstrate against fascist murder
Friday, 7 June 2013, 20:09 | Source: Euronews |
Footage here:
http://www.euronews.com/2013/06/07/anti-fascist-demonstrators-in-france-denounce-fatal-attack-on-student/
---
FRANCE |
Female skinhead in neo-nazi gangaccused of killing anti-fascist
Friday, 7 June 2013, 19:51 | Source: IBT |
Four people have been arrested in connection to an alleged politically motivated attack that has a 19-year-old leftist dead in Paris, French authorities said.
Interior minister Manuel Valls said four individuals, including the one who probably struck the blow that killed Clement Meric, are being questioned by police.
The four - three men and a woman - are aged between 21 and 37 and have been identified thanks to photos and eyewitnesses' testimonies, police sources told AFP.
Meric, a member of an anti-fascist group, was beaten to death following a dispute between left-wingers and skinheads at a clothes sale in Paris central 9th district Wednesday evening, authorities said.
The politics student at Sciences Po University was attending a Fred Perry private sale in Rue de Caumartin with three friends, when four neo-Nazis sporting shaved heads and swastika tattoos arrived at the premises and an altercation erupted.
Meric was reportedly punched with a knuckle-duster and hit his head on the pavement.
Thursday morning he was declared brain dead by doctors at a Paris Pitié-Salpêtrière hospital, where he was taken in desperate conditions the previous evening. A few hours later, police confirmed Meric had died.
The deadly blow was delivered by a 21-year-old close to Paris-based neo-Nazi organisation JNR (Young Revolutionary Nationalists), police sources told the news agency.
JNR members were first accused of being behind the attack by far-left parties umbrella group Parti de Gauche that also urged lawmakers to ban violent far right organisations. JNR founder Serge Ayoub, 48, denied the allegations.
President Francois Hollande strongly condemned the attack and pledged swift action against far-right groups if the link between the attackers and organised political movement is confirmed.
"For too long these groups have created disorder and have to be repressed," Hollande said.
Hundreds of students gathered outside Sciences Po University to pay tribute to Meric.
UPDATE 7 June 2013: 24 hours after the arrest, French authorities reportedly released the female suspect. Another four people handed themselves into police in connection with the death of Clement Meric.
---
FRANCE |
Far-right rally banned after student killing
Friday, 7 June 2013, 19:45 | Source: Reuters |
French authorities banned a far-right youth rally set for Saturday in the southern city of Toulouse after the killing of a left-wing student this week sparked alarm over street violence by ultra-right groups.
Toulouse's Socialist mayor had expressed concern about a planned torchlight evening march to commemorate the victory of a Christian army in 721 over Muslims besieging the city, after a clash between ultra-right and far-left youths in Paris on Wednesday led to the death of a 19-year-old student.
Toulouse police headquarters said it had feared a "serious risk of public disorder" if the rally went ahead.
France has been shaken in recent months by scenes of far-right youths hurling bricks at police and smashing cars as they piggybacked on street marches led by conservatives and Catholics against a reform to legalize same-sex marriage.
The sudden visibility of far-right groups is shaking up the already fragmented right-wing opposition, as National Front leader Marine Le Pen seeks to distance herself from them and the UMP conservative party squabbles over whether to embrace or oppose the anti-gay marriage movement.
Hundreds of people gathered on Thursday evening near the site of Wednesday's attack in central Paris, chanting left-wing slogans and paying tribute to Clement Meric, a political science student. Other vigils took place at Meric's university, Sciences Po, in the Latin Quarter of Paris and in other French cities.
Far-left youths in Toulouse plan to hold a daytime rally there on Saturday against what they describe as "fascists".
Meric's head injuries came when he fell against a metal post after being punched by tattooed right-wing youths he had been taunting in a typical clash between the two camps.
BANNING FAR-RIGHT GROUPS?
A member of a group called Anti-Fascist Action, Meric used to hand out tracts against racism and inequality. Reuters television footage showed him at an April rally against the anti-gay marriage movement, standing back from scuffles between police, left-wingers and right-wingers.
His death has sparked calls from opposition politicians to ban France's two dozen or so far-right groups outright, despite the risk that this would drive them underground. The government has promised to look at ways to clamp down on extremism.
"If we don't ban them, things like this will keep happening," hard left leader Jean-Luc Melenchon told BFM television.
Experts estimate there could be some 3,000 people in France belonging to some 30 extreme right groups, which may be turning more radical since Le Pen has sought a more mainstream profile.
Political tensions rose last month when a 78-year-old far-right activist opposed to gay marriage committed suicide at the altar of Notre Dame cathedral in Paris by shooting himself in the mouth.
Seven people who police say belong to a fringe far-right group called the Revolutionary Nationalist Youths have been arrested over Wednesday's incident. The main suspect, a Spanish student, said he had hit Meric but had not intended to kill him.
---
FRANCE |
Paris activist dies after far-right attack
Thursday, 6 June 2013, 22:33 | Source: thelocal.fr |
18-year-old Clément Meric. File photo: LCI/Screengrab
An 18-year-old left-wing activist died on Thursday after being left brain dead in an attack by far-right skinheads in Paris. There has been widespread horror and condemnation in France, and several arrests were made earlier on Thursday.
Clément Méric, an 18-year-old student at Sciences Po in Paris is officially deceased, police sources said on Thursday.
Méric, a left-wing and anti-fascist activist, originally from Brest in Brittany, was "violently attacked" by a group of three skinheads, including one woman, near Saint-Lazare train station on Wednesday evening, it emerged on Thursday.
Méric, known for his radical left-wing activism, had been left brain dead by the beating, which has provoked a flood of horrified and angry reactions from many different quarters in France.
Thousands gathered on Thursday evening in cities all over France, to offer moral support to Méric's family, and to honour his memory.
Hundreds gathered at Place Saint-Michel between the 5th and 6th arrondissements of Paris, close to Notre Dame cathedral.
French Interior Minister Manuel Valls announced earlier on Thursday that seven arrests had been made, including that of the individual suspected of delivering the final blow to Méric.
French President François Hollande, speaking on an official visit to Japan, said he "condemned the attack in the strongest possible terms."
"I have given the most rigorous possible instructions so that the authors of the odious act can be arrested at the earliest possible juncture," he said in a statement.
The Parti de Gauche (Left Party) reflected the mood of many, especially on the Left, in France.
"The horror of fascism has just killed right in the middle of Paris," they said in a statement.
"Violently beaten to the ground by a group of activists from the extreme right, manifestly from the group JNR (Jeune Nationaliste Revolutionnaire), left motionless, he was declared this evening to be in a state of brain death at Pitié-Salpêtrière Hospital in Paris," the statement added.
For his part, the leader of JNR, Serge Ayoub, also known as 'Batskin', has denied his group's involvement in the attack.
"That's absolutely false," he said.
An attacker 'wearing knuckle dusters'
A number of eyewitness reports, as well as a police source quoted by TF1 television, indicate that a group of left-wing activists had gone clothes shopping on Wednesday evening on rue Caumartin in the 9th arrondissement of Paris.
After far-right activists entered the same shop, there was an angry exchange of words and insults. When the group including Meric left the store, the extreme-right group had "brought reinforcements."
The victim was hit by a man wearing what appeared to be knuckle dusters, according to initial reports.
One eyewitness, named only as Aurelia, described to French reporters the horrifying scenes she witnessed.
"I was out doing some shopping, when I found myself face to face with the attackers," who she told reporters had shaved heads and wore leather jackets.
"I saw the young man falling, and his head hitting a bollard. There was blood coming out of his ears and nose, and then he went into convulsions."
"He had a huge lump at the back of his head, and his face was covered in blood," she added.
Condemnation on all sides
There has been widespread anger and condemnation in France, from all sides of the political spectrum.
Bertrand Delanoe, the Socialist mayor of Paris described his "horror" at hearing about the attack, while French Interior Minister Manuel Valls had vowed to "eradicate this kind of violence, which bears the mark of the extreme right."
Harlem Désir, president of the governing Socialist Party has announced a rally in honour of Meric, to take place in Paris this evening.
For his part, Front Gauche (Left Front) leader Jean-Luc Mélénchon has called on Valls "to disband groups on the extreme right who, in the last few weeks, have committed numerous acts of violence in Paris and across the country."
Pierre Laurent, president of the French Communist Party has announced a rally in Paris this evening, along with the Parti Gauche, with whom his party forms the Left Front.
On the other side of the political spectrum, main centre-right opposition UMP leader Jean-François Copé took to Twitter to strongly condemn what he called a "barbaric attack."
---
SPAIN |
Madrid's dangerous attempt to distort the history of the Spanish civil war
Thursday, 6 June 2013, 12:57 | Source: The Guardian |
Every day, thousands of Madrileño students pass by a monumental arch called el Arco de la Victoria (or victory arch) as they make their way into the city's Complutense University. The vast structure is similar in appearance to the Arc de Triomphe in Paris, but unlike the French model this was not constructed to celebrate some famous victory in which Spain vanquished a foreign foe. The grandiose construction was built by General Franco to celebrate the defeat of the Second Republic by his nationalist troops in the civil war, which raged between 1936 and 1939. Franco's victory came after a conflict that left up to half a million of his fellow Spaniards dead, the country in ruins and presaged the outbreak of the second world war.
Further into the university campus the same students pass by a much smaller memorial, so modest that many of them will not even be aware of its existence. A simple metal column, paid for by many individual private donations, bears an inscription dedicated to the thousands of volunteers of the International Brigades who went to fight in Spain. In November 1936 the university campus became a key theatre of the war. As Franco tried to take Madrid his troops were resisted there in some of the bloodiest fighting of the conflict: hundreds of international brigadiers died alongside locals defending the faculty buildings under the famous slogan which has became a rallying cry for anti-fascists ever since: "No Pasarán".
It might be thought that at a time when there is a rise in xenophobia and racism across Europe this small memorial to those motivated by the fight against fascism in the 1930s would be coveted by the city. In fact, it seems that the rightwing Popular party (PP) that runs the city is not prepared even to tolerate its existence.
Earlier this week the supreme court of Madrid upheld a complaint that the memorial did not have planning permission and the university authorities have now been given two months to remove it. In turn, the university authorities claim that they have applied for planning permission but the town hall has not acknowledged the application. The university also point out that other much larger memorials – such as that to the victims of the 2004 train bombings – were erected without the required permits.
Explaining the past to shape the future is a basic tenet of any mature political process. Outside Spain, other European countries are increasingly able to face up to their own dark history. Visitors to cities such as Berlin, Nuremburg or Lyon, for example, will find world class museums that deal candidly with their role in the 20th century, and Liverpool's museum of slavery sheds light on a shameful episode for the British. Yet in Madrid there is not a single information point or visitor centre attempting to tell the history of the civil war. The PP administration is unable to deal with the diversity of claims on the past and so it prefers to try and lock down any discussion at all.
Notwithstanding the scores of streets and squares in Madrid that still bear the names of members of the Franco regime, let alone monuments such as the Arco de la Victoria that celebrate the crushing of one half of the population, it now seems that political spite will do away with the only commemorative plaque to the International Brigades in the entire city.
It is often said that history is written by the winners. But what is happening in Madrid is not just an asymmetrical exercise of historic memory. It is an intolerant, dangerous, dysfunctional way to treat the past and sits uneasily with the image Madrid likes to project as an open, diverse and transparent city of the future.
---
SPAIN |
International petition against demolition of IB memorial.
Thursday, 6 June 2013, 12:50 | Source: Hope not hate |
Hope not hate calls on all its supporters to sign the petition to oppose the removal of the monument to the International Brigades.
The petition is here: http://www.change.org/es/peticiones/paremos-la-retirada-del-monumento-a-las-brigadas-internacionales-de-la-ucm
Full story is here: http://www.hopenothate.org.uk/international/article/1158/ib-monument-must-go-court-rules
---
FRANCE |
Anti-fascist murdered in Paris
Thursday, 6 June 2013, 11:59 | Source: Hope not hate |
As he was leaving a store in Paris yesterday, Clément Méric, 18, an anti-fascist and trade-unionist was beaten to death in a brutal and cowardly assault by members of a far right group.
Clément came from Brest but moved to Paris to study politics. Yesterday, he was the fatal victim of the growing violence of the far right, which has increased in recent months. He died in a Paris hospital as a result of his wounds.
We wish to express our sympathy and solidarity to Clément's family and close friends.
Hope not hate
---
SWITZERLAND |
Swiss vote on tightening of asylum law
Thursday, 6 June 2013, 09:45 | Source: AFP |
The Swiss will vote on Sunday on whether to approve an emergency tightening of the country's asylum law in a bid to stem the influx of refugees to the wealthy Alpine nation.
A controversial revision, which was ordered as an emergency measure by the government and went into effect last October, marked the seventh change of the asylum law in Switzerland - Europe's fourth most popular destination for refugees.
The vote on 9 June - one of four Sunday's this year set aside for popular votes on national, cantonal and communal issues as part of Switzerland's famous direct democratic system - comes after a range of opponents of the revision collected the 100 000 signatures required to call a referendum.
Also on Sunday, the Swiss will be called to vote on whether the people should elect the country's seven government members directly instead of having parliament pick them, as it has been doing for the past 165 years.
According to recent polls though, that initiative appears set to fail. Opponents of the new asylum law revisions, including human rights advocates, religious groups and unions who have banded together to form a collective called "Coordination against Exclusion and Xenophobia", also appear destined to fall short in their bid to overturn the changes.
57% in favour of revision
Surveys show the Swiss are increasingly leaning towards giving their stamp of approval to the changes, as some balk at soaring numbers of refugees flocking to the small Alpine nation, which offers generous hand-outs throughout the asylum process. A poll by public broadcaster RTS in late May showed that 57% of those questioned were in favour of the revisions, up nine percentage points from a month earlier.
There are currently about 48 000 people in the process of seeking asylum to Switzerland, including a full 28 631 who arrived in 2012 - the highest number in a decade.
Only 11.7% of asylum applications were meanwhile granted last year, when most asylum seekers to the country came from Eritrea, Nigeria, Tunisia, Serbia and Afghanistan. Counting one asylum seeker for every 332 inhabitants, Switzerland ranks as the fourth most popular host country in Europe, trailing only Malta, Sweden and Luxembourg, and ranking far above the European average of one asylum seeker for every 625 inhabitants.
Among the most controversial changes to the Swiss asylum law last year, was the decision to remove persecution due to military desertion as legal grounds for seeking asylum in Switzerland - a motive mainly used by Eritreans.
Harsh criticism
The revision also removed the possibility, which had been unique in Europe, to apply for asylum in Switzerland from Swiss embassies around the world. That move revision has been harshly criticised by the Swiss Bishops Conference, which stressed recently it would force people "to pay intermediaries and to embark upon high-risk trips" to make their way to Switzerland.
The bishops also said the revisions would mean people in real need of assistance would be rejected. "Behind every statistic there hides the destiny of men and women," it said in a recent statement, insisting that "no one leaves their country of their own free will without knowing what the future in another country or continent has in store".
Justice Minister Simonetta Sommaruga, who is in charge of the brief, however insists the changes were for the best of the asylum seekers themselves. She especially highlighted the speeding-up of the application process aimed to bring handling times down from several years to several months by removing the possibility of multiple appeals.
Special centres for 'trouble-makers'
"Leaving people and their families for so long wallowing in uncertainty is unacceptable," she said recently, insisting that "processes that drag on and the asylum-seeker tag blocks rapid integration". The rejigged asylum law also clears the way for the creation of special centres for asylum seekers considered to be trouble-makers and limits the right to family reunification to spouses and children.
As for the second issue to be voted on Sunday, it was proposed by Switzerland's largest party, the populist Swiss People's Party (SVP), which insists that allowing the electorate to choose its leaders directly would strengthen the government's legitimacy. All the other political parties have however come out against the initiative, maintaining it would weaken parliament, and a recent poll showed only 25% support for the shift among voters.
---
GERMANY |
NSU trial : defendant 'felt strong' as a neo-nazi
Thursday, 6 June 2013, 09:39 | Source: Spiegel |
On the sixth day of Germany' NSU trial in Munich, one of the co-defendants, Carsten S., gave insights into his life as a neo-Nazi.
He told the court he felt strong when he was part of the far-right scene and described how he had taken part in racially-motivated attacks.
He said he had smashed the windows of Turkish doner kebab shops and once joined in when his group beat up two men. He recalled "that I kicked once or two times -- I don't know anymore." Afterwards, he told the court, he had read that the two men had been seriously injured in the attack.
When the judge asked him what his motive was for joining in racist attacks, he said: "All I know is that one of us had the idea -- and then we all went along. I don't have exact memories. I assume of course that this doner stall represented a certain image of the enemy." Then he paused and said: "We did it for a laugh -- and of course to get one over on them."
Carsten S., now 33, is charged with being an accessory to murder. He allegedly helped the National Socialist Underground by providing the murder weapon used in all 10 of the killings, a Ceska 83 pistol with a silencer.
The main defendant in the trial is Beate Zschäpe, accused of being the sole surviving member of the trio that made up the NSU. The two other members, Uwe Böhnhardt and Uwe Mundlos, committed suicide as the police closed in on them after a bank robbery in November 2011.
S. said he had been opposed to Germany being a multicultural society and was against financial capitalism. "It was a simple ideology, black and white. The fact that we were losing our homeland, that we're governed by financial Jewry, and in a certain respect I believed in that."
He said the decisive motivation for him was that he felt good being part of a neo-Nazi group. "I felt respected. I felt good. I felt strong." He also said: "The feeling of belonging, I thought it was great."
Carsten S. is one of the most important witnesses for the prosecution. He said he quit the neo-Nazi scene in 2000 and moved from Jena in eastern Germany to Düsseldorf to study social pedagogy.
He has been cooperating with the police since his arrest in 2012. If found guilty, he could face a jail term of three to 15 years.
---
FRANCE |
French far-right as popular as major parties
Wednesday, 5 June 2013, 19:27 | Source:thelocal.fr |
The far-right, anti-immigration National Front, led by Marine Le Pen, would match France's mainstream political parties if European elections were held this weekend, according to a poll published on Wednesday.
The survey revealed that the far-right National Front, the governing Socialist party, and the main centre-right opposition UMP were neck-and-neck on exactly 21 percent each of public support.
Public opinion firm Ifop, along with right-leaning weekly magazine Valeurs Actuelles asked respondents to choose from a series of party lists, with specific named leaders, "if the European elections were to take place next Sunday."
Some 21 percent chose the Socialist Party, led by Party President Harlem Désir, the same percentage of support given to both the UMP, led by Jean-François Copé and the National Front, led by Marine Le Pen.
Just nine percent chose the 'Front de gauche' (Leftist Front), led by 2012 presidential candidate Jean-Luc Mélenchon.
EELV (Europe Ecology – the Greens), led by current French housing minister Cécile Duflot, got 7.5 percent support, and the centrist Modem (Democratic Movement), led by repeat presidential candidate François Bayrou, got seven percent support.
The UDI (Union of Democrats and Independents), a splinter party formed during the UMP's fraught leadership battle last autumn, and led by Jean-Louis Borloo, polled at 6.5 percent.
The Gaullist, eurosceptic DLR (Arise the Republic) party, led by Nicolas Dupont-Aignan, got three percent.
The NPA (New Anticapitalist Party), led by former postman and 2007 presidential candidate Olivier Besancenot got two percent support.
Wednesday's poll will make worrying reading for both Socialist French President François Hollande, and main opposition leader Jean-François Copé.
Hollande has suffered record unpopularity among French voters, amid historic levels of unemployment and a tax evasion scandal which forced former budget minister and key ally Jérome Cahuzac to resign in April.
For his part, Copé had to endure a poisonous battle with former Prime Minister François Fillon in order to become UMP leader last autumn.
In May, The Local reported that former President Nicolas Sarkozy, who has somewhat overshadowed Copé's leadership with repeated hints at a return to politics, topped a poll of French voters asked to choose their preferred president in 2017. National Front leader Le Pen came in second, and Hollande a distant third.
At the time, Socialist spokesman David Essouline condemned the far-right rhetoric of Le Pen.
"Behind lofty, misleading comments against bankers, she only becomes concrete when it's about attacking unions and immigrants," he said in a statement.
Along with elections to the European Parliament, 2014 will bring local, municipal elections to France.
In February, The Local reported how the National Front has opened up a 'candidate's college' called "Campus Bleu Marine," in an effort to boost the party's representation in local authorities throughout France.
Le Pen garnered 18 percent of the vote in last May's presidential election, just failing to replicate the performance of her late father, and party founder, Jean-Marie Le Pen on the same stage.
In 2002, Jean-Marie Le Pen sent shockwaves throughout the political world by outpolling Socialist candidate and incumbent French Prime Minister Lionel Jospin in the first round of the presidential elections.
Incumbent centre-right President Jacques Chirac went on to get 82 percent of votes in the run-off election.
---
SPAIN |
IB monument must go, court rules
Wednesday, 5 June 2013, 19:19 | Source: The Guardian |
Judges say memorial to 35,000 international volunteers who fought Franco breaks planning laws after rightwing outrage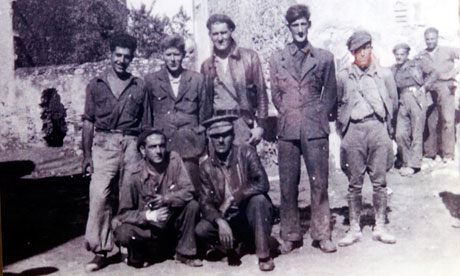 International Brigades fighters in Spain during the civil war. Photograph courtesy of Benny Goldman
Less than two years after a monument was raised in Madrid to the 35,000 volunteers who joined the International Brigades to fight the fascist-backed forces of General Francisco Franco during the Spanish civil war, a court has ordered that it be pulled down.
The monument to the volunteers from 53 countries, paid for by public subscription and placed in the gardens of the Complutense University, where many died defending Madrid and Spanish democracy against Franco's rebels, has enraged some rightwingers.
A case brought by the lawyer Miguel García has now succeeded where political protest failed. Judges have decided the university broke planning laws and must remove the monument.
Topped by the brigades' three-pointed star, the monument bears the words of Dolores Ibárruri, the communist firebrand better known as La Pasionaria: "You are history; you are legend; you are an heroic example of solidarity and of the universality of democracy."
David Lomon, then the last surviving British-based veteran, travelled to Madrid for the inauguration in October 2011 and asked those present to remember the up to 10,000 volunteers who died.
"The International Brigade was born to fight against Franco, Mussolini and Hitler," he said, recalling the tens of thousands of Italian troops and notorious German bomber squadrons who helped Franco.
"Even though we lost the so-called civil war, the democratic world realised that fascism must be stopped or they too would suffer the same fate. The second world war was a continuation of the war in Spain," he said.
Lomon, a Londoner who was captured and had to keep his Jewish identity secret from Gestapo officials at the jail, died in December aged 94.
The monument, placed a short distance away from a huge victory arch built during Franco's 36-year dictatorship, was soon daubed with graffiti calling the volunteers "murderers".
Supporters of the brigades have written to the British ambassador in Madrid, Giles Paxman, to ask him to intervene.
"Although the court's decision was taken on technical grounds, the original complaint was lodged by a lawyer with known far-right connections," said Jim Jump, secretary of the London-based International Brigade Memorial Trust.
"There is nothing to celebrate, and especially not in a public space devoted to education," García wrote in his original writ. "The international brigades were created and managed by Stalin, the most genocidal leader in history."
---
GERMANY |
Accomplice admits to getting NSU murder gun
Wednesday, 5 June 2013, 19:07 | Source: thelocal.de |
The trial of a German woman accused of membership of a neo-Nazi terror cell resumed this week with the appearance of an accomplice who admitted supplying the group with a gun used in several murders.
The defendant, identified only as Carsten S(chulze), testified late on Tuesday that he had supplied a weapon to now-deceased NSU members Uwe Mundlos and Uwe Böhnhardt, thought to have committed nine racially motivated murders over a decade, and to have killed a German policewoman.
The weapon – a Ceska 83 pistol with silencer and ammunition – was used in nine of the ten murders and was knowingly supplied by Carsten S. for this purpose, said the prosecution - knowledge which the defendant denied.
Carsten S., 33, said he assumed "nothing bad would happen" with the weapon, wrote the Frankfurter Allgemeine Zeitung on Tuesday, and added that he had a "positive feeling" about what the trio were doing "was ok."
"I remember it had to be a German make, a handgun with ammunition," Carsten S. told the court, and said he had received orders from Mundlos and Böhnhardt on the phone, which he then passed onto another alleged accomplice, Ralf Wohlleben.
The prosecution said that the fact that the gun had been supplied with a silencer meant that Carsten S. had known that it would be used aggressively and not as defence, as he maintains. However Carsten S. said that the men had not requested a silencer, he had only sold them one because that was what was available.
The defendant said he had forgotten a lot of what had happened in the thirteen years since he supplied the weapon, including the conversation when he was asked to do so.
"I reckon if I can't remember it it must have been a normal conversation, nothing special," Carsten S. told the court, according to Der Spiegel. "I would have remembered anything out of the ordinary."
When asked what he had known about the men and their alleged accomplice Beate Zschäpe, 38, who is also standing trial for complicity in the NSU's crimes, Carsten S. said:
"Nothing. I just knew they were underground or on the run. I didn't know where and how they lived or who was helping them," he said, according to the magazine.
Carsten S. also said he had helped the trio get hold of a motorbike used in a robbery and had once broken into Zschäpe's old flat to take files and documents which were then destroyed.
"I kind of felt, those poor persecuted [people], you have to help them," he told the court according to Frankfurter Allgemeine Zeitung
Meanwhile, Zschäpe's lawyers are demanding termination of proceedings, based on what her lawyers say was an illegal pre-trial assumption of guilt, wrote the paper.
The defence point to statements by Chief Federal Prosecutor Harald Range, who they claim repeatedly described Zschäpe as a member of a "gang of killers," "terrorist organisation" or "terrorist trio" after her arrest in 2011, before the criminal investigation had even begun.
The prosecution's case against Zschäpe, say her defence lawyers, is based on assumptions about her role in the trio and closeness to other the members which have not yet been proved.
---
ITALY |
Kyenge's daughter victim of racist insults
Wednesday, 5 June 2013, 12:58 | Source: Gazzetta del Sud |
Congo-born Integration Minister Cecile Kyenge said that her Italian-born daughters had experienced more racism in the country than she had. "I didn't have problems in Italy...though there was some mistrust on the part of Italians," Kyenge told Chi magazine in an interview out Wednesday.
But for her two daughters born from her marriage to Calabrian engineer Domenico Grispino, things have been "worse", Kyenge said. "They don't feel 'different' because they have an Italian father," said Kyenge, giving an example of one incident.
"One day Giulia (one of her two daughters) came home shocked after being verbally abused by a bus driver who accused her of being a sneaky foreigner and trying not pay her ticket when, in fact, it was just that her bus pass wasn't working," said Kyenge. "My dream is to see all people treated equally as citizens," Kyenge said.
Since her appointment in Premier Enrico Letta's left-right government, the country's first black minister Kyenge has suffered racist attacks from the anti-immigrant Northern League and anonymous bigots.
---
GREECE |
Golden Dawn wants law jailing illegal immigrants
Wednesday, 5 June 2013, 12:53 | Source: Reuters |
Greece's far-right Golden Dawn party hit back at plans for an anti-racism law on Tuesday by submitting its own draft bill to fight "racism against Greeks" by jailing all illegal immigrants.
Members of Greece's ruling coalition have been squabbling for days over the details of legislation aimed at curbing a rise in attacks on migrants.
The law is widely seen as an attempt to rein in Golden Dawn, which has tapped into widespread anger against austerity and corruption to become the third most popular party in the country.
Golden Dawn emerged from obscurity and entered parliament for the first time last year, winning supporters with its free food handouts only for Greeks and fierce rhetoric blaming migrants for crime.
It has denied having any involvement in the attacks.
"The established parties have been competing for days: which one is going to submit the toughest anti-racism bill to make delinquency permanent and turn Greeks into a minority in our own country," Golden Dawn said in a statement outlining its bill.
"The only racism that exists at this moment in the country is racism against Greeks."
Golden Dawn said its bill proposed jailing anyone who entered the country illegally - even if they later obtained a legal permit - for at least three months and a sentence of at least 10 years if they subsequently committed a felony.
"The foreign criminals who have killed our compatriots have been convicted for serious crimes but are still free," it said. "Golden Dawn's proposal will immediately solve this problem by sending every illegal immigrant who violates the law to prison."
The ruling coalition's junior partners - the Socialist PASOK and the Democratic Left - have jointly submitted a draft anti-racism bill that toughens penalties for inciting racial hatred, denying the Holocaust or carrying out attacks.
The conservative New Democracy party says it plans to amend existing racism laws.
Parliament will vote on those and any other proposals in the coming weeks. Golden Dawn has 18 seats in the 300-member parliament, meaning its bill has virtually no chance of passing.
---
ITALY |
EP Eurosceptic group expels Italian for racism
Monday, 3 June 2013, 21:51 | Source: Reuters |
An Italian member of the European Parliament was expelled from the eurosceptic Europe of Freedom and Democracy group on Monday for what its co-leader called "repugnant" racist remarks towards a black minister in Italy's government.
Mario Borghezio, an EFD member from Italy's pro-devolution Northern League, has a history of outspoken and racist remarks, but his latest comments were too much for the group, which said it had kicked him out by a majority vote.
In April, Borghezio attacked the appointment of Cecile Kyenge, who originates from Democratic Republic of Congo, as Italy's integration minister, saying she wanted to impose her country's "tribal traditions" on Italy.
"This is the government of Bonga Bonga," he said in a radio interview, an apparent play on the so-called "bunga bunga" parties of former Italian Prime Minister Silvio Berlusconi.
Borghezio added that "Africa hasn't produced great geniuses as anyone can see from a Mickey Mouse encyclopaedia," and called on Kyenge to condemn polygamy.
UK Independence Party (UKIP) leader and EFD Group co-president Nigel Farage said in a statement:
"I made it clear at the last Europe of Freedom and Democracy Group meeting that unless Mr. Borghezio was expelled that UKIP would leave the Group.
"Mr. Borghezio has now been expelled for his repugnant comments. We have sent out an unmistakeable signal that racist comments are unacceptable."
UKIP made sweeping gains in local British elections last month, despite the party once being dismissed by Prime Minister David Cameron as a "bunch of fruitcakes, loonies and closet racists."
Borghezio remains an MEP for the Northern League but he will lose some rights in terms of speaking time now that he is outside the parliament's seven main political groupings.
Borghezio said in a statement that Farage, a forme commodity trader, wanted him out of the EFD because Borghezio's campaigns against tax havens and financial privileges had annoyed Farage's "powerful friends in the City of London."
---
HUNGARY |
Hungary protest outside Slovak embassy
Monday, 3 June 2013, 21:48 | Source: spectatator.sme.sk |
Several hundred extremists attended the traditional protest held in front of the Slovak Embassy to Hungary, as well as other foreign embassies in the country, to protest against the Treaty of Trianon, signed on June 4, 1920. The police blocked the embassy with metal barricades, the TASR newswire reported on June 2.
The protest was organised by the Youth Movement of 64 Counties (HVIM), as well as the sympathisers of the Jobbik party and other ultra-right organisations. Several tens of protesters were wearing uniforms similar to those belonging to the outlawed Hungarian Guard.
According to Jobbik MP Tamás Gaudi-Nagy, a revision to the peace dictate passed 93 years ago is necessary. He added that the Treaty of Trianon can be perceived as an attempt to kill the nation, which was accompanied by the trampling of the rights of the Hungarian nation to self-determination, TASR wrote.
The protest, which was held in front of the Slovak, Serbian and Romanian embassies, was supervised by police.
The protest ended without any major incidents, TASR reported.
---
GREECE |
Greek ruling party drops anti-racism law opposition
Sunday, 2 June 2013, 15:50 | Source: JTA |
Greek Prime Minister Antonis Samaras and his conservative New Democracy party have dropped their opposition to a new anti-racism bill which outlaws Holocaust denial.
New Democracy had refused to back the bill sponsored by two smaller parties in the ruling coalition, saying that existing legislation was sufficient to deal with racist attacks that have been spawned by the ultranationalist, neo-Nazi Golden Dawn party.
Their opposition brought widespread condemnation, including from Greek and international Jewish groups, who urged Athens to take stronger steps against Golden Dawn
Now, New Democracy has tabled its own version of the bill, which attempts to strengthen existing laws and "unites democratic society and does not contain constitutional problems," the party said in a statement.
The proposal would add stricter jail time and fines for inciting and carrying out racist attacks and, for the first time, makes "approving or belittling the seriousness of Nazi crimes, the Jewish Holocaust, and other genocides" a crime under Greek law.
Politicians or political parties with members convicted under the law, would not be eligible for state funding, according to the bill. However, state bodies and the Greek Orthodox Church would be exempt.
On May 31, the Central Board of Jewish Communities in Greece reiterated its demand that the government support the bill, calling on "all democratic forces in the country to overcome their differences and pass legislation that will display zero tolerance to racist violence, xenophobia, anti-Semitism and Holocaust denial."
Golden Dawn emerged on the political scene last year, winning seven percent of the vote, or 18 seats, in the 300-member Greek Parliament. Recent polls have indicated the party, which runs on a fierce anti-immigrant platform, now has about 10 percent of the Greek population's support.
Jewish and international groups have condemned Golden Dawn as racist and anti-Semitic.
---
SWEDEN |
Far-right party seeks to capitalise on Swedish riots
Saturday, 1 June 2013, 15:46 | Source: Financial Times |
Sweden is trying desperately to put last week's riots in Stockholm behind it, and in the past week the capital has remained relatively quiet. But the questions raised by the unrest in the wealthy Nordic country have refused to go away.
A parliamentary debate on Friday, called at the instigation of the far-right, anti-immigration Sweden Democrats (SD) party, provided a taster of an issue likely to feature in the next year leading to a general election in September 2014.
"What we have seen in the past few weeks and is still going on is not only horrible and appalling but also the clearest sign of a gigantic political failure," said Jimmie Akesson, head of the SD, now the third-largest political party in the country.
The answer, he declared, was for child benefits to be withdrawn from the parents of any rioters.
Political analysts say that the SD – currently polling about 10 per cent, behind only the ruling Moderate party and opposition Social Democrats – has already benefited from a political establishment largely unwilling to discuss multiculturalism or the integration of Sweden's growing immigrant population.
But Mr Akesson is aiming to use the unrest, which took place in suburbs with a heavy immigrant population such as Husby, Rinkeby and Tensta, to boost the popularity of his party, which has roots in the neo-Nazi movement.
"I see an unwillingness to approach the problem. It is deplorable and disrespectful to the victims and also to the Swedish people," said the SD leader.
The response to the unrest has underscored some big differences between the centre-right coalition and centre-left opposition, which have often been hard to discern in recent months in this consensus-driven society. "I find it very hard to see any big policies where they [Moderates and Social Democrats] disagree fundamentally," said one Swedish chief executive before the riots.
The government has been keen to portray the riots as the work of a few hundred "hooligans", and underlined its belief that it was a law-and-order problem by sending the justice minister to the debate. Mr Akesson had wanted the integration minister.
But the Social Democrats have been keen to stress what the centre left sees as the root causes of the unrest: higher-than-average unemployment among the young in the suburbs and the need for better training or education for the largely immigrant population.
Morgan Johansson of the Social Democrats told the debate that the image of the Swedish welfare state had been damaged abroad. He insisted: "This is not a question of immigration; it is a question of class."
The troubles have stirred debate elsewhere in Scandinavia.
Jyllands-Posten, the Danish newspaper that sparked controversy by printing cartoons of the Prophet Mohammed in 2005, wrote in an editorial entitled "The Swedish Lie": "The problem is not [the government needing to spend money], but cultural. It stems from an abysmal difference between the mentality that created the rich and well-functioning Sweden, and the foreign mentality exhibited by the aggressive section of young immigrants."
Lars Ostby, a senior research fellow at Statistics Norway, is another who suggests, gently, that Sweden might have been ignoring its problems by, for instance, not publishing statistics on immigrants broken down by individual countries.
"The Swedes have a different attitude to data than us," he said. "What's happening now is perhaps a result of their not wanting to see what is going on. In the unstable suburbs of Stockholm [and Malmo and Gothenburg] I think poverty and unemployment, marginalisation and integration, resembles the situation in Marseille and Paris more than that in Oslo."
---
FRANCE |
Le Pen loses immunity, faces charges
Saturday, 1 June 2013, 11:31 | Source: BBC |
French far right leader, Marine Le Pen, could face criminal charges for inciting racism, the BBC has learnt.
The French authorities opened a case against Mrs Le Pen in 2011 after she likened the sight of Muslims praying in the streets to the Nazi occupation of France.
As a European Parliament member (MEP), she enjoyed immunity from prosecution.
However, this protection was removed by a European parliamentary committee in a secret vote this week.
BBC chief political correspondent Gary O'Donoghue says he has been told that the vote to remove her immunity was "overwhelming".
It will need to be ratified by the full parliament, but that's expected to be a formality, our correspondent says.
When the parliament's legal affairs committee first tried to consider the case, Marine Le Pen, leader of France's far right National Front party, failed to turn up.
This week she sent a fellow French MEP in her place.
The move clears the way for the French authorities to pursue a case against the leader, who steered her party to a record 18% showing in the first round of last year's presidential election.
Mrs Le Pen made the remarks at a party rally in 2010 in the southern French town of Lyon.
She said that Muslims using the streets to pray because mosques were overflowing was an "occupation" of French territory.
Praying in the streets was banned in Paris in 2011 in response to growing far right protests.
By some estimates, as many as six million French people, or just under 10% of the population, are Muslims, with origins in France's former North African colonies.
Their integration has been a source of political debate in recent years, and earlier this year France became the first EU state to ban the wearing of the Islamic veil in public.
The BBC has so far been unable to reach her for comment.
---
HUNGARY |
Budapest to review naming of street after antisemite
Saturday, 1 June 2013, 10:12 | Source: Politics.hu |
The mayor of Budapest ordered a re-examination of a controversial decision to name a street after an anti-Semitic author.
Maria Szucs Ciuc, a spokeswoman for Mayor Istvan Tarlos, told the news site FN24.hu on Thursday that the mayor had ordered a re-examination of the city council's decision to name a street after Cecile Tormay, a Hungarian writer who died in 1937. Both the World Jewish Congress and the Federation of Hungarian Jewish Communities, or Mazsihisz, protested the decision.
Under the Local Government Act, the mayor may reverse decisions deemed "offensive."
Ronald Lauder, the WJC president, said in a statement that the decision to honor Tormay "puts into question the pledge given to the Jewish community that anti-Semitism will be fought vigorously by the Hungarian authorities."
In a separate statement, Mazsihisz said Tormay had "inspired" many anti-Semitic thinkers and leaders in Hungary, including Miklos Horthy, the country's pro-Nazi ruler during World War II, when 400,000 Hungarian Jews were murdered.
The decision to name the street after Tormay came days after reports of three anti-Semitic incidents directed at Mazsihisz and one of its communities.
On Monday, police removed a package containing white powder from the Mazsihisz main office.
And on Sunday, worshippers discovered anti-Semitic slogans painted on the facade of a synagogue in Vac, a city 20 miles north of Budapest. A nearby Jewish cemetery was desecrated and at least two of its headstones were smashed. Police are investigating all three incidents, the MTI news agency reported.
Earlier this month, Mazsihisz hosted the World Jewish Congress General Assembly amid protests by hundreds of neo-Nazis and ultranationalists. Many of the protesters were affiliated with the Jobbik party, Hungary's third largest. Hungary's Jewish watchdog on anti-Semitism, the Action and Protection Foundation, or TEV, has termed Jobbik "a neo-Nazi" party.
---
GREECE |
Implement anti-racism bill, Greek Jews and WJC implore government
Saturday, 1 June 2013, 10:12 | Source: JTA |
The World Jewish Congress has joined the Greek Jewish community in urging the Greek government to implement an anti-racism bill in the face of rising hate crimes.
On Tuesday, two junior members of Greece's ruling coalition said they would defy Prime Minister Antonis Samaras and vote to send the bill immediately to Parliament.
Samaras' conservative New Democracy party believes that existing legislation is sufficient to deal with racist attacks that have been spawned by the ultranationalist, neo-Nazi Golden Dawn party.
"We call upon the government and the democratic political forces to overcome their differences and shield democracy in our country with appropriate legislation, to ensure the equality of Greek citizens," the Central Board of Jewish Communities of Greece said in a statement.
The measure would impose prison terms and fines for racist attacks and also outlaw the use of Nazi symbols and denying the Holocaust.
In a statement Tuesday, WJC President Ronald Lauder said, "It is very worrying that the mainstream parties in Athens are apparently unable to find a compromise on this important matter. Hate mongers and extremists such as the leaders of Golden Dawn are not only a threat to minorities such as the Jews; they are a threat to democracy as a whole."
Golden Dawn emerged on the political scene last year, winning 7 percent of the vote, or 18 seats, in the 300-member Greek Parliament. Recent polls have indicated the party, which runs on a fierce anti-immigrant platform, now has about 10 percent of the Greek population's support.
Jewish and international groups have condemned Golden Dawn as racist and anti-Semitic.
Speaking earlier in the year at a ceremony to commemorate the deportation of Greece's Jews to the Nazi death camps, Samaras had vowed to take strong action against Golden Dawn, promising to be "completely intolerant to violence and racism."
Opposition groups have accused Samaras of dropping his support for the bill, saying he was wary of directly confronting Golden Dawn and powerful interest groups on the right.
---
NEW ZEALAND |
Cartoon prompts call for racism threshold change
Saturday, 1 June 2013, 10:11 | Source: TVNZ |
The threshold for racism under the Human Rights Act should be changed if a controversial cartoon published in a regional newspaper is not considered legally racist, MP Te Ururoa Flavell says.
The cartoon, published in the Marlborough Express yesterday, depicts two overweight adults dressed in children's school uniforms joining a line for free school meals.
One of the adults, wearing apparent ethnic tattoos and a back-to-front baseball cap, says: "Psst! ... If we can get away with this, the more cash left for booze, smokes and pokies!"
Race Relations Commissioner Devoy said at a press conference this afternoon while she thought the cartoon was offensive, it did not exceed the the Human Rights Commission's threshold for racism.
"It does not reach the levels of racism within the inquiries and complaints process within the commission."
Dame Susan said the commission had to look at what would incite racial disharmony under Section 61 of the Human Rights Act 1993, which makes it unlawful to publish material which is "threatening, abusive or insulting".
Maori Party MP Flavell said today the cartoon was "way out of line" and that the threshold for racism should be lowered.
"We've got to change that threshold and bring it down," Flavell said.
"Because on the face of it, most fair-minded New Zealanders would suggest that it is racist, and it has no place to be delivered in newspapers in this country."
Speaking on radio this morning, Marlborough Express editor Steve Mason apologised for any offence caused by the cartoon, but said he was delighted that it had sparked discussion on an important issue.
Dame Susan said New Zealanders had a right to freedom of expression and speech.
"I was told on talkback (radio) this morning that a lot of people agree with [the cartoon], and that's why people are entitled to their opinions," she said.
"People can say what they like and print what they like even if we find it really offensive."
The Race Relations Commissioner encouraged those who found the cartoon offensive to write to the editor of the Marlborough Express, the Press Council or make a complaint with the Human Rights Commission.
The cartoonist, Al Nisbet, had a similar illustration published in The Press today, depicting a large family sitting around a table littered with Lotto tickets, beer cans and cigarettes, a big television and other devices in the background. An adult says: "Free school food is great! Eases our poverty, and puts something in you kids' bellies!"
The Press Editor Joanna Norris said the newspaper considered whether the cartoon was fair.
"When we look at the cartoons, we consider whether its fair and whether it crosses a line into hate speech.
"This cartoon clearly doesn't do that."
There was a strong backlash on social media, with Twitter users saying the cartoon was an embarrassment to New Zealand and harked back to a racist past.
Many called on people to flood the Marlborough Express' social media feeds with complaints.
Media commentator Martyn Bradbury posted a blog on the subject with a tweet saying: "There is no place in NZ for this kind of disgusting f***ing racism - for shame Marlborough Express, for shame!"
He also added: "I'm just so ashamed of the Marlborough Express - who knew such racism could exist openly in 2013 - we have all been embarrassed as NZers
Comedians Ben Hurley and Chris Bain also took to their Twitter accounts to slam the cartoon.
Bain said: "It seems that Marlborough is so express it's a time machine. Straight back to 1952."
While Hurley branded the cartoon an "absolute shocker", and added: "Marlborough express; for your racism in a hurry."
Green Party MP Catherine Delahunty tweeted: "Thanks Marlborough Express 4 reinforcing racist, anti poor people and larger people meme - we really needed that!"
Other users disputed Mason's opinion that it would spark discussion on an important issue and help tackle racism in society.
@DidzLife said: "How does racist stereotyping stimulate discussion on anything other than racism and stereotyping? #racist #cartoon"
She also called the cartoon "racist, decisive and callous", later tweeting: "Anything that incites hatred against other human beings is just plain wrong."
Bradbury also said: "...playing to the worst of our natures isn't 'sparking discussion'."
---